Sen. Cornyn Statement On Constitution Day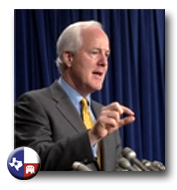 Today I issued the following statement in honor of Constitution Day, the 223rd Anniversary of the signing of the Constitution on September 17, 1787:
For more than 200 years, throughout times of war and turmoil, peace and prosperity, we have followed the wisdom and foresight of our nation's founding documents. Constitution Day is a reminder of the importance of continuing that proud tradition. Through the Constitution's framework, America has distinguished herself as a land of liberty, justice and opportunity, and our government has endured more than two centuries under a necessary system of checks and balances and by the consent of the American people.
It is a privilege to serve Texas in the U.S. Senate, where I have the honor to support and defend the Constitution and its timeless principals for future generations.