Sen. Cornyn Statement Following the United States Supreme Court Decision in McDonald v. Chicago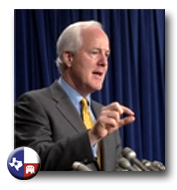 I issued the following statement after the United States Supreme Court issued its ruling in McDonald v. City of Chicago:
I applaud today's Supreme Court decision that ensures every individual in our society has the right to keep and bear a firearm to defend their family and their home. It stands as a timely reminder for what is at stake when considering a nominee to our nation's highest court. This decision will no doubt lead to further litigation, and every American deserves to know where Elena Kagan stands on Second Amendment rights. My constituents have expressed serious concerns regarding Ms. Kagan's position on gun rights. They deserve to know if they can trust the same person who coordinated Bill Clinton's aggressive gun-control agenda to interpret and define the contours of the Second Amendment for decades to come.