Cornyn: Fannie, Freddie Should be Open to Public Scrutiny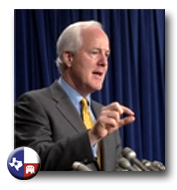 Responding to reports that the Obama Administration will oppose efforts to make Fannie Mae and Freddie Mac subject to the Freedom of Information Act (FOIA), I issued the following statement:
Citizens have a fundamental right to know what their government is doing, and once again I encourage President Obama to heed Candidate Obama's advice on the campaign trail in 2008.
The promises of the "most open and transparent administration in history" have turned into secret meetings beyond the reach of White House visitor logs, political operatives screening FOIA requests, and now opposition to allowing taxpayer-funded Fannie and Freddie to be publicly scrutinized. This is unacceptable and it must come to an end.