Cornyn: Their Only Concern is 2012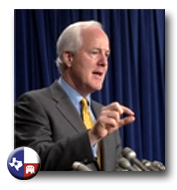 Today, I issued the following statement in response to Senate Democrats' plan to forego producing a budget and ignore entitlement reform because it is politically expedient:
Senate Democrats have given their game plan away: abdicate their responsibilities and focus on the next election. While their only concern is 2012, my colleagues and I are more concerned with 2024. That's when Medicare will go broke, if not sooner. Democrats might be comfortable whistling past the Medicare graveyard, but Republicans are interested in solving problems.