How a GOP-Controlled House Will Impact Major Issues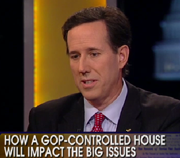 As the GOP takes over the House, Republicans will be taking over the Chairs of all of the committees, which includes the Homeland Security, Ways and Means, and Judiciary Committees. Former Pennsylvania Senator Rick Santorum went "On the Record" Monday night to predict how the newly GOP-controlled House will approach and tackle major issues.  
I think you're going to see the House Republicans come out just barreling away on spending. I think particularly given this tax deal that happened where there weren't any spending cuts and a lot of the base, a lot of the TEA Party folks were very upset, well they wanted the tax cuts extended, they didn't have any offset. I think [Republicans] are going to have to show that they're serious about getting this spending under control, so you're going to see spending cuts right out of the box, repealing part of the Obama stimulus for example, and repealing part of Obamacare.