A Truck Lover's Guide To Scott Brown's Truck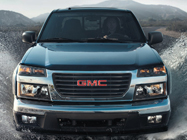 Everyone seems to know about the historical win for Scott Brown and the GOP. In Scott Brown's "Hey Dad" ad for his campaign, Scott Brown introduces us to his truck. He talks about how this truck has allowed him to travel throughout Massachusetts and meet the constituents of the state.
Since this was a major ad for Scott Brown's campaign, there is no doubt it caught the attention of the media, and of course… President Obama. In a speech, Obama publicly denounced Scott Brown's Truck. Obama said that Scott Brown can run "slick ads" and warned his audience to "Forget the truck. Everybody can buy a truck." Not everyone earns a six-figure salary Obama.
Scott Brown doesn't have a fancy car, or an expensive luxury car like a Lexus or a Cadillac. In this state of time, very few people can afford a Lexus or a Cadillac, let alone any car or truck. Obama must not have realized that Scott Brown's truck is actually a GMC Canyon. And he must have forgotten that the U.S. government owns General Motors when he was condemning the truck.
It does not help the American automobile crisis nor trust from the American people when Obama is carping on the product of his government-owned business. Also, the fact that Obama made a special trip to Massachusetts to fight the senator shows how epic this senate race was! 
After winning the race, Scott Brown said that he would drive his truck all the way down to Washington. Talk about a slap to the face, Obama! For all those truck lovers out there, here are the specifics!
Scott Brown's truck is a GMC Canyon. A GMC Canyon is a heavy pickup truck, and has an 18 city miles per gallon rate and a 25 highway miles per gallon rate. The truck can be made as a crew cab, a regular cab, or an extended cab. It is a little bit above 5 feet tall and wide and a little more than 16 feet long. It has air bags on both of the front seats, and has six Onstar Safety accessories that can help protect the truck. In the exterior, the window glass is made of deep tint and there are front and rear bumpers. The pickup box is made of all-welded steel. In the Interior, there is a front air conditioning only and the steering wheel is leather-wrapped. The engine is classified as a V-eight. A V-eight engine has eight cylinders with two rows of four cylinders each. The Gross Vehicle Weighting is at about 5,000 pounds and the payload is at about 1,450 pounds. The curb weight for the Canyon is at 3,600 pounds.
Some other features include a tire pressure monitor and a sunroof. The car has over 5 choices of paint for the exterior and four different types of leather for the interior. There are also some extra accessories, like a DVD player, a bed rug for the entire payload, a chrome fuel door, and a cat back exhaust system that muffles the engine.
Clearly, this truck is a good truck to own, and there was no reason for Obama to bash this truck. Scott Brown should not only drive this truck up to Washington, but drive it all the way to the White House's garage!