Manny Rosales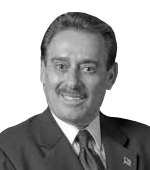 Manuel "Manny "A Rosales is the CEO of Verissimo Global, a full range of information technology and communication solutions for today's commercial and government sectors.
Mr. Rosales serves as the National Chair of the Latino National Republican Coalition, a grass roots Hispanic conservative organization with Chapters throughout the United States.
Mr. Rosales was elected to the Board of the Directors of The Latino Coalition (TLC) and serves as the Director of the Washington, DC office where he is the Chair of the TLC's Policy, Government and International Relations Committee.
Mr. Rosales recently served as the Deputy Director of the Coalitions Division at the Republican National Committee, where he was part of the senior management team that won back the house in 2012. Mr Rosales served as President and CEO of the Caribbean Central American Action. A Washington based NGO that focuses on the Caribbean Basin.
Mr. Rosales served as the Assistant Administrator for the U.S. Small Business Administration's Office of International Trade, where he acted as the Administrator's principal advisor on international trade, educational and technical assistance, risk management and finance programs designed to assist U.S. small businesses in the international marketplace.
Before moving to Washington, Mr. Rosales successfully operated his own financial services company, Inter-American Financial Services, in California. With a career in banking, Mr. Rosales' acted as Vice President of the Bank of California. He was recruited to serve as the Vice President of the Capital Preservation Fund (now known as the Benham Capital Management Group), the nation's first money market fund.
Mr. Rosales was elected chairman of the California Hispanic Chamber of Commerce, where he served five years. Mr. Rosales was also twice-elected to the U.S. Hispanic Chamber of Commerce, where he was instrumental in providing national forums for small business issues and expanding opportunities for Hispanic-owned businesses internationally.
Mr. Rosales actively served his community in San Francisco as Commissioner of the San Francisco Department of Traffic and Parking, Vice President of the San Francisco Redevelopment Agency, California Commissioner to the Small Business Development Board and Trustee of the Mexican Museum.
Posts by Manny Rosales