Rudy Cajka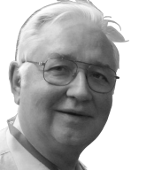 Rudy Cajka is political activist and historian currently residing in Texas. He is an active member of the Denton County Republican Party and has written numerous articles on political and conservative topics for many years. He is a free market conservative and he devotes considerable time analyzing elections and current events.
Rudy Cajka also has many other interests including financial analysis, investing and world travel among others and occasionally the posts on this blog will reflect those interests.
POLITICAL RESUME FOR RUDY CAJKA Biographical Information for Rudy Cajka:
Born in Montreal, Canada 
Graduated from McGill University in 1959 with a Bachelor of Engineering Degree 
Emigrated to the United States in 1959 
Married to Carol Cajka since 1983. Lived in many different parts of the United States including Boston, MA, Poughkeepsie, NY, Gaithersburg, MD, Austin, TX, Los Angeles, CA, San Francisco, CA, Fort Worth, TX and currently living in Denton, TX. Have also lived overseas in Copenhagen, Denmark and Kobe, Japan. 
Worked for IBM for 30 years in various Systems Engineering, Programming and Marketing positions. Worked for 7-Eleven Inc. Corporate IT in Dallas, TX for 10 years as a Senior Business Analyst. 
Retired in 2005 to pursue interests in travel, investments and Republican politics.
Republican Party Activities:
1965 – 1969:   Treasurer, Dutchess County, New York Young Republicans 
2000, 2002, 2004, 2006:  Delegate to Senate District Convention 12, Tarrant County 
2000:     Senate District 12 Resolutions Committee (Tarrant County) 
2000, 2002, 2006:  Delegate to the Texas State Republican Convention (from Tarrant Co.) 
2002, 2004, 2006:  Election worker in Primary and General Elections, Tarrant Co. 
2006:    Election Judge, Republican Primary, Tarrant Co. 
2007:    Delegate to the Texas Republican Straw Poll 
2008:    Treasurer & Publicity Chair, Robson Ranch Republican Club 
2008:    Senate District 12 (Denton County) Resolutions Committee Member 
2008:     Assistant Pct. Chair for Pct 421 
2008:    Asst Elections Judge, Republican Primary & Runoff 
2008:    Delegate to the Texas State Republican Convention (From Denton Co.) 
2008:    Chairman, DCRP Audit Committee 
2008:    Denton County Deputy Volunteer Voter Registrar 
2008:    Member of the 
2008:    Primary Election Early Ballot Board, Denton County 
2008:    Member, Denton County Republican Assembly 
2008:    Chairman, General Election Early Ballot Board, Denton County 
2008:    Asst. Election Judge, General Election 
2008:    Club Member of the Year, Robson Ranch Republican Club 
2009:    Chairman, Robson Ranch Republican Club 
2009:    Asst. Pct. Chair for Precinct 421 
2009:    Member, TEA Party Committee for Denton County 
2009:    Delegate, Texas Republican Assembly Convention – June 2009  
2009:    Elected SD12 District Director for the Texas Republican Assembly State Board 
2009:    Deputy Volunteer Voter Registrar 
2008 - 2010:   Published multiple Newsletter articles for DCRP Newsletter 
2009:    Chairman, Early Ballot Board for the November Constitutional Election 
2009:    Election Judge, Pct. 412, November Constitutional Election 
2009:    Denton County Republican Party Chairman's Award 
2010:    Chairman, Texas Republican Assembly Endorsing Convention 
2010:    Asst. Pct. Chair for Precinct 421 
2010:    Denton County Deputy Volunteer Voter Registrar 
2010:    Vice-Chairman and Program Chair, Robson Ranch Republican Club 
2010:    Campaign Chairman, Denton County Republican Assembly PAC 
2010:    Chairman, Republican Primary Election, Early Ballot Board 
2010:    Temporary & Permanent Chairman, SD 12 District Convention Resolutions Cmte 
2010:    Delegate to the Texas State Republican Convention (From Denton Co.) 
2010:    Chairman, Denton County Early Ballot Board for the March Republican Primary 
2010:    Chairman, Denton County Early Ballot Board for the November General Election 
2010:    Assistant Treasurer, Denton County Republican Party
2010:    Club Member of the Year, Robson Ranch Republican Club 
2010:    Club Member of the Year, Denton County Republican Assembly
Posts by Rudy Cajka