Tom Donelson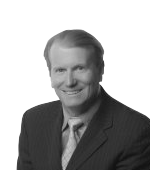 Thomas Donelson is the chairman of Americas PAC, a PAC that specializes in expanding the free market conservative coalition by spreading the message to demographics that rarely vote conservative, including Hispanics and African-Americans.
Mr. Donelson has been involved in conservative Republican politics throughout the Midwest for the past three decades, including running the 1988 congressional campaign of Mary Ellen Lobb in Missouri's 5th district against Democrat Alan Wheat.
In addition to being a political activist, Mr. Donelson has authored seven books including two on Public Polices, Economics 101 and Other Thoughts and Empire of Liberty, plus written numerous articles that have appeared in National Review, Cedar Rapid Gazette, Kansas City Star and other Midwest publications
For the past decade, Mr. Donelson has worked with the late Richard Nadler, who founded Americas PAC and the American Majority Foundation. Mr. Nadler's expertise have been to enlarge the conservative majority by researching methods to reach the investor class, minorities, and even challenged the conventional wisdom of climate change. Mr. Donelson is continuing his work.
Tom Donelson has a blog, View From the Fruited Plains.
Posts by Tom Donelson