Tom Pauken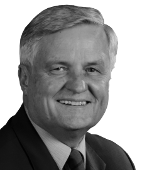 Tom Pauken was the Commissioner Representing Employers for the Texas Workforce Commission (TWC), where he served since being appointed by Governor Rick Perry in March 2008 until April 30, 2012.
He brings decades of public service experience to TWC, having held numerous leadership positions.
In 2007, he served as Chairman of the Governor's Task Force on Appraisal Reform. He served in the White House Counsel's Office under President Reagan, and was appointed by the President to serve as Director of ACTION, where he founded the Vietnam Veterans Leadership Program. ACTION is now known as AmeriCorps. Mr. Pauken also was instrumental in the implementation of First Lady Nancy Reagan's "Just Say No to Drugs" campaign.
Commissioner Pauken is a United States Army veteran. He received a commission in Military Intelligence and served in Vietnam as a Province Intelligence Officer and as a senior analyst for the Office of Strategic Research Analysis.
Founder and President of Dallas-based TWP Inc. Mr. Pauken also has served as a board member of various public and private companies. He is a member of the American Legion, the Knights of Columbus and Veterans of Foreign Wars.
Commissioner Pauken is the author of two books: "The Thirty Years War: The Politics of the Sixties Generation" and his new book entitled "Bringing America Home." He holds a bachelor's degree from Georgetown University and a law degree from Southern Methodist University.
He and his wife, the former Ida Ayala, have seven children and 12 grandchildren.
Posts by Tom Pauken