Voice of the Conservative Vote: Matt Kibbe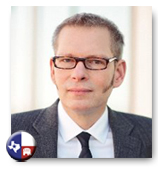 Matt Kibbe is the President and CEO of FreedomWorks. He has been with the organization for over 15 years. An economist by training, Kibbe is a well-respected national public policy expert, bestselling author and political commentator. He also serves as Distinguished Senior Fellow at the Austrian Economic Center in Vienna, Austria.
Newsweek has called Kibbe "one of the masterminds" of Tea Party politics, expertise which has led to frequent appearances on national news shows including FOX News, NBC, ABC News, CNN, MSNBC, FOX Business, PBS, and CSPAN.
In 2012 Kibbe authored Hostile Takeover: Resisting Centralized Government's Stranglehold on America, revealing how the centralized bureaucracy of government is eroding our hard-fought freedoms and how the Tea Party movement can return America to the decentralized vision of our Founders.
Dubbed "the scribe" by the New York Daily News, Kibbe is coauthor, with Dick Armey, of the New York Times bestseller Give Us Liberty: A Tea Party Manifesto (HarperCollins, 2010). Liberally expropriating from leftist organizer Saul Alinsky, Kibbe also authored Rules for Patriots: A Pocket Primer for Patriotic Americans. He has written for The Wall Street Journal, USA Today, Investor's Business Daily, POLITICO, The Washington Examiner and numerous other national and online publications. He is also a regular contributor to Forbes.com, RedState and FoxNews.com.
What they're saying about Matt Kibbe:
"Kibbe…looks and talks like Billy Bob Thornton cleaned up for a job interview." —Dave Weigel, Slate Magazine
"The Second Worse Person in the World." —Keith Olbermann, MSNBC
"...An extremely reasonable, articulate voice... as straight a shooter as I've heard in the American political arena." —Geraldo Rivera, Fox News
Before joining FreedomWorks, Kibbe's career spanned the worlds of academia, business, and lawmaking. He served as Chief of Staff and House Budget Committee Associate for U.S. Representative Dan Miller (R-FL); Director of Federal Budget Policy for the U.S. Chamber of Commerce; Senior Economist for the Republican National Committee during Lee Atwater's tenure as Chairman; and Managing Editor of Market Process, an academic economics journal published by the Center for the Study of Market Processes at George Mason University.
Kibbe started his professional career at Citizens for a Sound Economy, serving as a policy analyst in the mid 1980s. He did graduate work in the economics department at George Mason University and received his B.A. in Economics from Grove City College.
Kibbe lives in Washington, DC with Terry, his sublimely awesome wife of 25 years. For Matt, goofing off usually involves reading Hayek or Rand, watching The Big Lebowski, or listening to a killer Grateful Dead show, preferably with a nice bottle of red wine.
It's time to act. Otherwise, federal spending will bankrupt the United States, thwart economic growth, and threaten our global economic competitiveness. The size and scope of government must be returned to a level that the nation can afford. Taxpayers can no longer afford a bloated federal budget full of earmarks and programs for special interests.