Why Christine O'Donnell's Race is the Country's Most Important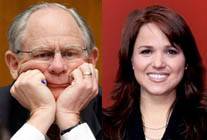 The following was sent in from a TexasGOPVote reader regarding the race for the "Biden Seat":
Those of us who have been working non-stop for months on Christine O'Donnell's race for the "Biden Seat" in Delaware have been doing so mainly because of our great regard for this truly outstanding conservative candidate.
But there are other important reasons for supporting Christine, as this American Spectator article outlines. Since O'Donnell would be seated right after the election -- unlike every other candidate -- her race is the most important one in the country. She has pledged to stop the Obama/Reid/Pelosi agenda dead in its tracks.
I firmly believe Christine is close to winning in the Primary against liberal Mike Castle, but she urgently needs our financial help (www.christine2010.com). Please pass this on to your friends and allies.  
Read "Banking on Mike Castle" By Jeff Poor from American Spectator.