The Coming Constitutional Debate - Stephen Markman, Hillsdale College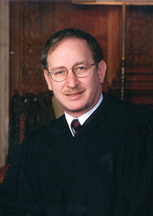 There has been a lot of remarking on how the giant reach of Barack Obama and this Congress has sparked renewed (and not a little overdue) attention to The Constitution of The United States. And people seem to think that it is in fact, a giant overreach. Of course it is, but it is remarkable only in its pace; not in its very nature. America has been stretching and defying the bounds of The Constitution for all of my 50+ year life and long before. It is only the breathtaking speed and scope of the change that has jostled a slumbering population. If you have taken a close look and something seems wrong, welcome to the club!
Today, I picked up the current copy of "Imprimis," the monthly publication of Hillsdale College in Michigan, long known as a bastion of classical education and for having spurned first direct and then even indirect (through students) federal subsidy in order to evade federal regulation of the structure and content of the school's conduct. Stephen Markman is a Justice on the Michigan Supreme Court and former Assistant Attorney General under Ronald Reagan who is a professor of constitutional law at Hillsdale.
In this article that I located on the web, he discusses the developing tensions in constitutional jurisprudence, ending with the current move among many including Obama's State Department Legal Counsel Harold Koh towards "transnationalism," which wants to subject constitutional "interpretation"(?) to an evolving multi-national standard of law. Yes, that's an outrageous notion, but again only the most current and shameless disfigurement of the principles established in framing The Constitution.
Attendant with the principles of a basic social morality, a crucial principle is of liberty as protected from the encroachment of government. And, that is precisely the liberty that is under assault in this long chain of jurisprudential abuse. I dream that the current arousal of interest in the message of The Constitution might comprise the determination among some Americans to see those values and their potential restored, either in a revived United States or in another jurisdiction if necessary. I'm a Christian who believes there are conflicting forces at work in the world. Today it seems clear that those forces will divide among those who submit to a global authority of men such as that suggested by this transnational legal movement and also in the coercion and taxation of "climate change" regulation, and those who submit to a transcendent authority, represented in principles of liberty with fundamental decency. When those forces come to blows, which side will you and/or your progeny be on?