Another Brick in the Wall – Drone Flights Begin on Texas Border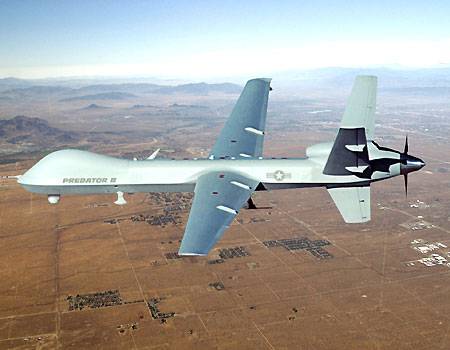 The Department of Homeland Security announced the beginning of patrol flights along the Texas/Mexico border by unmanned aircraft systems (UAS) commonly referred to as Predator Drones. The drones are based at the Corpus Christi Naval Air Station and will patrol from Brownsville to El Paso.
Houston Congressman, John Culberson (R-TX) has long been a proponent of stronger border security measures. Culberson told TexasGOPVote today, "Violence along the U.S. – Mexico border is a serious threat to our national security. I am pleased that the Obama Administration has finally stationed unmanned aerial drones in Texas to combat this threat but more needs to be done."
US Senator John Cornyn (R-TX) has also been working hard with the director of the FAA to open airspace to allow for these drones to operate safely along the border. Plans for these operations had been moving slowly prior to the pressure applied by Sen. Cornyn earlier this year.
Today, Senator Cornyn said, "This is a step in the right direction. If this Administration is serious about securing our southern border, it will take further tangible steps to demonstrate that commitment to the men and women who live and work along the border."
These remotely piloted vehicles, which will be operated from San Diego, CA allow for patrol flights lasting up to twenty hours per mission. Up to four aircrafts at a time will be patrolling along the border to provide intelligence to US Customs & Border Patrol (CBP) agents and Texas law enforcement officials. Optics on board the aircraft allows observation detailed enough to determine the brand of a water bottle label from 19,000 feet. While quietly flying at a speed of over 250 miles per hour, the drones can spot illegal activity from as far away as 6 miles.
These operations will spot drug smugglers and human traffickers as they cross the border and provide for more efficient deployment of ground based law enforcement officers. This will be a major boost to the sparsely populated counties like Hudspeth County, Texas. Similar operations began along the US/Canadian border since 2006. Last year flights began covering the southern border from western Texas to California.
Watch below to see CBP Predator Drones in Operation over Southern Arizona earlier this year!
CBP reports the drones have already flown over 1,500 hours of border flights since 2005 and have led to the capture of over 4,000 illegal aliens and the confiscation of more than 15,000 pounds of drugs. The increased number of flights should raise these numbers significantly. The flights operate only in Visual Flight Rules (VFR) conditions and are unarmed.
Many tools will be required to secure our borders. The addition of these drones will be a highly effective tool for covering the vast borders where fences might be prohibitively expensive to build and even more costly to maintain. Fences are also valuable tools in providing a solid barrier, but must be used wisely.
Additional manpower is also needed in the form of increased Border Patrol agents, National Guard troops, and state and local law enforcement. Congressman Culberson told us, "I have demanded that President Obama deploy the National Guard to the U.S.-Mexico border and intend to pursue this request until it is granted."
Other technology tools have been tested in Arizona and should be used in Texas as well. One of these is the High Resolution Radar systems deployed in western Arizona. This system has proven to be effective in reducing the crossings of the border by drug cartels and human smugglers.
Curtis Collier, President of Texas based US Border Watch, said today, "The borders of this country are not yet secure and still represent a major security threat to our country. Each of these tools employed in the efforts to secure our border bring us closer to a safer country and demonstrate to those who would cross the border illegally, for whatever reason, we are serious about border security." He continued, "The deployment of these drones and other tools are important steps which must be accomplished before the people of this country will accept moving forward with meaningful Immigration Reform."
Senator Cornyn remarked, "Texans have had it with speeches and empty promises – we want immediate resources and attention to the growing security crisis along our southern border. I will continue to press the Department of Homeland Security to devote additional Predators to cover the Texas border, and pursue additional ways to achieve real border security."
What are your representatives doing to improve border security? If they are not doing what you want in this regard, it is time to elect new representatives! Are you ready to get involved?