Cornyn: Vote Shows Many Unwilling To Take First Step Toward Reining In Reckless Spending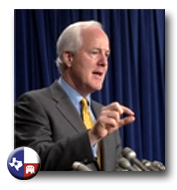 Today, I issued the following statement regarding the Senate's failure to pass a measure that would impose a two-year moratorium on federal earmarks. I voted in favor of the moratorium.
The message from voters in November could not have been clearer: they want Democrats and Republicans to work together to stop out-of-control federal spending. Today's vote shows that many of my colleagues won't even take the first step of adopting a moratorium on earmarks. The earmark process has been abused for years and has become a symbol of Washington's addiction to spending. President Obama has joined the majority of Congressional Republicans in calling for a moratorium on earmarks; it's disappointing that so many of my colleagues still refuse to join us on this moratorium, which would show the American people we are beginning to rein in reckless spending and debt.