Smith: Terror Plot is Failure of Immigration System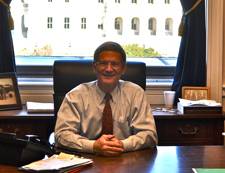 The terror plot in Texas underscores that the lax enforcement of our immigration laws is a gaping hole in our security system. According to the affidavit, Aldawsari has been planning to commit a terror attack against the U.S. for years. That is precisely why he applied for a student visa, in order to gain entry to the U.S. and carry out his plot.
We shouldn't be surprised that terrorists continue to enter the U.S. on visas when our immigration laws are so loosely enforced. The 9-11 hijackers entered the U.S. after obtaining visas. And the Christmas Day bomber was able to board a plane en route to Detroit because he too had a visa.
History is only repeating itself because we are letting it. We must do more to screen visa applicants to prevent terrorists from entering the U.S. in the first place.
According to the affidavit, Aldawsari wrote in his journal that to avoid detection, he would need multiple drivers' licenses and a forged U.S. birth certificate. The 9-11 hijackers fraudulently obtained more than 30 drivers' licenses and identification documents. These allowed them to ultimately board commercial planes on September 11. That's why Congress passed the REAL ID Act, which established national guidelines for the issuance identification documents to prevent terrorists from obtaining drivers' licenses. Unfortunately, the Obama Administration continues to delay the full implementation of this law.
In addition to stronger enforcement of immigration laws, we need the PATRIOT Act to prevent attacks from both terrorist organizations and rogue terrorists acting alone. Provisions of the PATRIOT Act are scheduled to expire in May. We cannot afford to leave our intelligence community without the resources they need to keep Americans safe.
This was a victory for our law enforcement community, but a failure of our immigration system. We have not learned the lessons of 9-11. Until we crack down on our immigration laws that allow terrorists to enter the U.S., history will continue to repeat itself.