Bipartisan Bill Reduces Frivolous Patent Lawsuits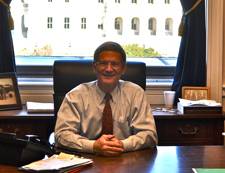 I joined House Judiciary Committee Chairman Bob Goodlatte yesterday in introducing legislation that reduces abusive litigation practices that plague our patent system. The bipartisan Innovation Act (H.R. 3309) builds on reforms that were made last Congress in the Leahy-Smith America Invents Act, which I authored and President Obama signed into law. The Innovation Act addresses the problem of patent trolls, who file frivolous lawsuits based on weak patents in order to force settlements outside of court.
Patent trolls engage in legalized extortion by using weak patents and frivolous lawsuits to demand settlements from companies and businesses across the U.S. These patent predators stifle economic growth, leaving companies with less capital to invest, innovate and create jobs. Unfortunately, abusive patent litigation has become big business. According to the Boston University School of Law, patent trolls cost the American economy $80 billion per year. And patent infringement lawsuits have doubled in the last three years—from 2,300 to 4,700. The Innovation Act helps protect innovators and job creators from abusive litigation, while preserving the rights of legitimate patent infringement claims.
Chairman Goodlatte: "Abusive patent litigation is a drag on our economy. Everyone from independent inventors, to start-ups, to mid and large sized businesses face this constant threat. The tens of billions of dollars spent on settlements and litigation expenses associated with abusive patent suits represent truly wasted capital – wasted capital that could have been used to create new jobs, fund R&D, and create new innovations and technologies.The bipartisan Innovation Act is designed to eliminate the abuses of our patent system, discourage frivolous patent litigation and keep U.S. patent laws up to date. These important actions will help fuel the engine of American innovation and creativity, creating new jobs and growing our economy."
Additional original cosponsors of H.R. 3309 include Representatives Peter DeFazio (D-Ore.), Howard Coble (R-N.C.), Zoe Lofgren (D-Calif.), Anna Eshoo (D-Calif.), Jason Chaffetz (R-Utah), Spencer Bachus (R-Ala.), Tom Marino (R-Pa.), Blake Farenthold (R-Texas), and George Holding (R-N.C.).
Key Components of the Innovation Act:
Target Abusive Patent Litigation: Targets abusive patent litigation behavior and not specific entities with the goal of preventing individuals from taking advantage of gaps in the system to engage in litigation extortion. It does not attempt to eliminate valid patent litigation.
Increases Transparency: Includes heightened pleading standards and transparency provisions. Requiring parties to do a bit of due diligence up front before filing an infringement suit is just plain common sense. It not only reduces litigation expenses, but saves the court's time and resources. Greater transparency and information is a good thing and it makes our patent system stronger. 
Modernizes Fee Shifting: Includes a modernized version of Section 285 fee shifting that is fair, clear and will ensure consistent judicial determinations. 
Provides Greater Clarity: Provides for more clarity surrounding initial discovery, case management, joinder and the common law doctrine of customer stays. The bill works hand-in-hand with the procedures and practices of the Judicial Conference and the courts. 
Small Business Education: Provides for small business education and outreach by the U.S. Patent and Trademark Office.
More information about H.R. 3309 can be found here.