Even Pelosi's Own Constituents Don't Like Government Healthcare Takeover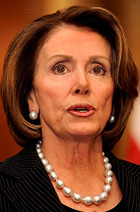 NRCC - Although Heath Shuler refuses to repeal the Democrats' job-destroying government takeover of healthcare, even businesses located in his party leader's San Francisco district are now looking for ways out of its ruinous effects. Shuler will now have to defend his vote to continue implementing the Democrats' disastrous health care law to his own constituents as well as small businesses in San Francisco (H.R. 2, Roll Call Vote #14).
"Despite the fact that many of Nancy Pelosi's own constituents in San Francisco recognize the job-destroying effects of their government takeover of healthcare, Heath Shuler still doesn't get it," said NRCC Communications Director Paul Lindsay. "Shuler's continued defense of the Democrats' job-crushing healthcare law ignores the very real damage being done to small businesses trying to create jobs, whether they are located in San Francisco or North Carolina."
Nearly 20% of all the new health care law waivers approved by the administration are in Nancy Pelosi's small San Francisco congressional district. (Debra Saunders, "Nancy Pelosi district hauls in Obamacare waivers," San Francisco Chronicle, 5/17/11)
San Francisco small businesses are seeking waivers in droves because the law is having disastrous effects on their ability to retain jobs:
"…Tru Spa's owner said new government health care regulations, both the federal-level Obamacare and new local laws in Northern California, have 'devastated' the business. 'It's been bad for us,' he said, without divulging his name, referring to the new health care restrictions." (Matthew Boyle, "Nearly 20 percent of new Obamacare waivers are gourmet restaurants, nightclubs, fancy hotels in Nancy Pelosi's district," The Daily Caller, 5/17/11)
Although Nancy Pelosi's own constituents recognize the massive burden the Democrats' government takeover of healthcare places on small businesses, Heath Shuler still refuses to repeal the law. Perhaps Shuler needs to visit San Francisco in order to gain some insight on how to create jobs and grow the economy.