Steven Hotze Immigration Video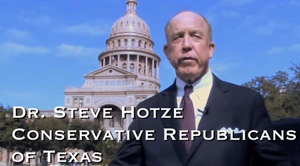 Mandatory E-verify, and Arizona style bills, will do nothing to secure the border. They will create unfunded mandates for law enforcement and they will drive undocumented workers away from tax-paying employers and deeper into the underground economy.
Texas Republicans must balance the budget, protect the unborn and adopt Photo Voter ID. At the same time, we must grow our party to win in 2012!
Please listen to the video below:
When Republicans stick to their conservative principles, we win. Its just that simple. Our conservative principles attract Hispanics to the Republican Party because they support these values. Republicans value life, liberty, family, and a moral foundation as self evident truths as blessings bestowed upon us by God. We also welcome everyone willing to work hard for a better life. These are our shared values.

We cannot turn our back on immigrants and their families with anti-immigration rhetoric and legislation. If we do so, then were not just sending the wrong message to the Hispanic community, but were also denying our own conservative values and beliefs. Governor Perry struck it exactly right: We have to be tough on border security and violent crime, but we should not let that lead us to demonize immigrants.