Alabama Attempts to Recover from Impact of Arizona Style Immigration Laws - Texas Should Learn from Alabama's Mistakes
Last summer I wrote about the negative economic impact being experienced by states like Georgia and Alabama which had implemented harsh, Arizona style immigration laws and how Texas had "Sidestepped a Landmine" by blocking similar legislation. Now, it seems, Alabama is stepping back and trying to recover from their failed policies by rolling back many of the harsh provisions enacted last year.
Texas was successful in blocking these efforts because of hard work by the members of our legislature and groups like Dr. Steve Hotzes Conservative Republicans of Texas and Harris County. His group was a major help in blocking almost all of the Arizona style laws, including the Sanctuary City Bill, from causing the kinds of economic chaos experienced by Alabama and Georgia.  
According to ImmigrationWorksUSA.org, Alabama has scaled back the following items in an effort to restore the economy of their state damaged by these bills:
Not all businesses found to have knowingly hired unauthorized workers will have their licenses automatically suspended or revoked. Penalties will be left to a judges discretion, first-time offenders will be treated differently than employers with prior violations, and some employers will experience no suspension, merely a probation period. 
Companies that sell products and services in Alabama but have no employees there will no longer be subject to Alabama immigration law or its penalties. 
The new law eliminates the provision in HB 56 that makes it a crime to knowingly rent housing to unauthorized immigrants – an important fix not just for landlords but also for construction contractors, growers and other employers who provide temporary housing for workers. 
The new law toughens the standards for terminated U.S. employees suing employers who they believe have replaced them with unauthorized workers, as permitted under HB 56. The new standards are designed to discourage frivolous lawsuits. 
The new law narrows HB 56s sweeping prohibition of "business transactions" between state and local government and unauthorized immigrants – a prohibition that was threatening to bring some government agencies to a halt as extra paperwork and long lines slowed routine processing and services. Under the new law, business transactions would be limited to the issuing of ID cards, business licenses, drivers licenses and license plates.  
The new law eliminates HB 56s controversial school census, which required public school K-12 teachers to inquire about students immigration status. It also revises a provision that limited the foreigners who could attend public college in Alabama. Under HB 658, only unauthorized immigrants will be barred – not refugees.
Immigration works concluded with the following statement, "The overwhelming majority of employers in Alabama and elsewhere support immigration enforcement – compliance with the law is their duty as citizens and it makes good business sense. The problem arises when states go beyond implementing the law and try to use the enforcement tools at their disposal to drive unauthorized immigrants out of the state. Lawmakers in Alabama found out the hard way just what can happen when tens of thousands of workers, legal and illegal, pack up and go and the state acquires a reputation as inhospitable to foreigners and foreign investment."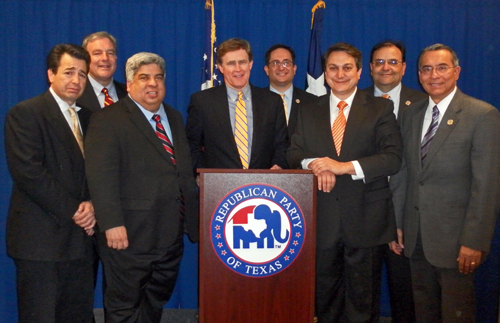 Texas should continue searching for ways to protect our citizens with strong border security and seek the removal of violent criminal illegal aliens.  But we should also continue to find ways to promote a sensible immigration policy in our country such as what was suggested by the Texas Houses Republican Hispanic Conferences HCR88. This bill could places responsibility for our broken immigration policy where it belongs - on the Federal Government, and calls for an economic based immigration policy that does not allow amnesty for people who are here illegally.
Texas, once again, leads the way.