Brandon Darby Exposes Child Sex Trafficking Cover-up by Eric Holder's DOJ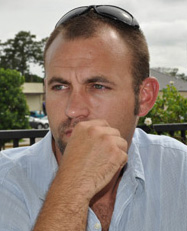 Brandon Darby has hit the national scene (again). This time, Darby has come out swinging (on TownHall.com) at Eric Holder's Department of Justice with proof that the DOJ has covered up multiple cases of Child Sex Trafficking.This comes on the heels of Eric Holder being held in contempt by the United States House of Representatives for refusing to release documents in the fast and furious gun walking program that led to the death of federal border patrol agent Brian Terry.
Brandon Darby is not your average Texan; he is a conservative hero. Darby was once a liberal activist but realized that liberal values were taking America in the wrong direction and were even becoming violent. After he became an FBI informant and exposed a plot by two liberal activists to bomb the 2008 Republican National Convention, Darby officially "came out" as a conservative and began fighting to help people using conservative values instead of hurting them with liberal values.
I met Brandon Darby when he came to my neck of the woods (Lumberton, Texas) to gather info for his story: NAACP Chapter President plays Race Card to Cover-up Child-Rape Charges Against His Relative. I was honored to help Darby by investigating Texas media bias and how The Silsbee Bee Downplayed the child rape even after the assailant pleaded guilty to assault.
I followed Darby's activities and was able to interview him about how he brings Andrew Breitbart's conservative fighting style to the Texas Ring. During last year's massive Texas Wildfires, Darby used the organization he founded (Citizen Patriot Response) to help victims of the wildfires.
Read Darby's latest article exposing the child sex trafficking cover-up here on TownHall.com.