Cornyn Urges Attorney General Holder to Put a Stop to Disenfranchisement of Military Voters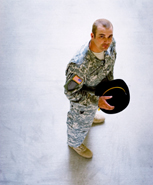 Today, I sent a letter to Attorney General Eric Holder urging him to proactively enforce the Military and Overseas Voter Empowerment Act and the Uniformed and Overseas Citizens Absentee Voting Act to prevent further disenfranchisement of service members and their families.
The text of the letter follows:
July 19, 2011
The Honorable Eric Holder
Attorney General
U.S. Department of Justice
950 Pennsylvania Avenue, NW
Washington, DC 20530-0001
Dear Attorney General Holder:
The November 2010 elections were marred by the Justice Department's grossly inadequate enforcement of federal laws designed to safeguard the voting rights of our military service members and their families, including the Military and Overseas Voter Empowerment Act (MOVE Act) and the Uniformed and Overseas Citizens Absentee Voting Act (UOCAVA). With the 2012 election cycle quickly approaching, I write to strongly urge you to take the lessons learned in 2010 and proactively apply them in order to prevent further disenfranchisement.
As you know, Congress enacted the MOVE Act in 2009 to put an end to the federal government's disgraceful history of failing to protect the voting rights of our troops and their families. In light of the Justice Department's poor track record, I call on you to formulate and provide a comprehensive plan for the enforcement of the MOVE Act and UOCAVA during the upcoming election cycle. I expect you to use the Justice Department's full authority and ample resources to do whatever is necessary to enforce the law and safeguard the voting rights of military voters, including pursuing litigation where necessary. Our troops and their families must be able to enjoy the same civil rights they fight to safeguard for their fellow Americans.
As you know, one of the central provisions of the MOVE Act is a requirement for jurisdictions to send military voters their unmarked absentee ballots at least 45 days before a federal election. This requirement also applies to federal primary elections, the first of which are scheduled for mid-February, 2012. The 45-day deadline for those initial primaries will arrive in early January, 2012, less than 6 months from now, and the Justice Department should be working now to ensure those states have in place adequate plans for compliance.
In the 2012 general election, vigorous enforcement of this 45-day requirement will be imperative for ensuring that military voters have enough time to vote, especially given the late nature of the political conventions. States will have less than 17 days after the Democratic National Convention, which is scheduled for the week of Sept. 3, 2012, to prepare, print, and send ballots to our troops before the 45-day deadline for the general election. This short time period gives me significant cause for concern that some jurisdictions may not make the deadline.
Therefore, I request that the Justice Department inquire with each state as to its intended timeline for sending out unmarked ballots for the general election, as well as whether the state intends to request a waiver of this requirement, and then provide me with a 50-state survey of this information. I also request a separate breakdown of each state's compliance with the 45-day requirement in the 2010 general election. Finally, I request that the Justice Department provide state elections officials with clear guidance on all aspects of compliance with the MOVE Act, which should have been provided to the states long before now.
The right to fully participate in democratic elections is fundamental to American citizenship. Our men and women in uniform have stepped forward to defend that right, often at great personal cost to themselves and their loved ones. In return, they deserve the federal government's commitment to promote and protect their voting rights. To begin demonstrating the Justice Department's commitment to safeguarding the civil rights of these patriotic Americans, I ask that you comply with these four requests without delay.
Sincerely,
JOHN CORNYN
United States Senator