Legislation Approved This Week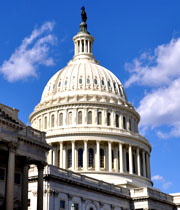 On Thursday the House passed H.R. 803, the Workforce Innovation and Opportunity Act, which will reform our nation's current workforce training system in order to make it more effective, modern, and accountable. At a time in which Americans are having trouble finding work, it is crucial that opportunities be available for individuals to improve themselves and remain competitive in the ever changing workforce. This legislation will promote the training programs necessary to help place American workers in American jobs, and take an important step towards increasing job opportunities for all Americans – especially those with disabilities. I proudly joined my colleagues in the House in supporting this legislation and will continue to support the development of all Americans.
On Friday the House passed another piece of pro-business legislation that makes bonus depreciation permanent. Bonus depreciation encourages companies to purchase new equipment and make domestic investments that will in turn increase productivity, spur GDP growth, and create new opportunities for millions of Americans. A permanent extension of bonus depreciation would make it easier for American companies to plan for the future and responsibly manage their finances. This common sense legislation will allow American companies to become more competitive and create more good-paying jobs. To read more about this bill, click here.