113th Congress Wrap Up
by Ted Poe
on December 22, 2014 at 4:56 PM
---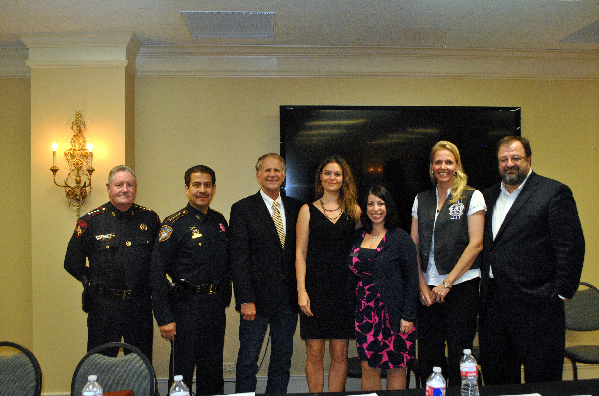 Congressman Poe holds Human Trafficking panel in Houston
As the 113th Congress comes to a close, here's a brief wrap up of some of my legislative accomplishments over the last two years:
Provided stronger tools for law enforcement to go after buyers of domestic minor sex trafficking victims and the resources needed to help trafficking victims. The House unanimously passed my bipartisan Justice for Victims of Trafficking Act.
Helped victims of rape and sexual assault get the justice they deserve by auditing and testing DNA evidence and ending the rape kit backlog. My bipartisan legislation, the SAFER Act, was included as part of the Violence Against Women Act and signed into law.
Increased sanctions against Iran by expanding the list of Iranian government officials subject to sanctions for their human rights abuses. The House passed my amendment to H.R. 850 (Iranian Sanctions) to do that.
Strengthened border security efforts by providing funding for public/private partnerships to enhance communications (cell phone service) for border residents (signed into law), requiring a biometric identification system for entry/exit at the border (passed the House Judiciary Committee as part of the SAFE Act), and make returning surplus equipment from Iraq/Afghanistan available to border law enforcement entities (language included in the National Defense Authorization Act).
Withheld funds for the EPA to be used to implement or enforce a cap-and-trade (or similar) program for the regulation of the release of greenhouse gases (passed the House).
Championed measures to help Texas' transportation and infrastructure: obtained authorization for the deepening of the Sabine Neches Waterway; requiring Congress to fully spend the receipts of the Harbor Maintenance Trust Fund on US ports and harbors each year; and allowing private investment in port projects and an expedited review process (all provisions included in WRDA).
Successfully pushed for the designation of Boko Haram as a Foreign Terrorist Organization. The day after my Subcommittee held a joint hearing on this issue, the State Department announced the official FTO designation.
Incorporated language into HR 3304 (the National Defense Authorization Act for Fiscal Year 2014 (Sec.1221)) requiring the President to report to Congress on its plan to disrupt and degrade Haqqani Network activities and finances, which became law.
Reformed U.S. foreign aid for water projects in third world nations, requiring tougher monitoring and evaluation standards, a coordinated and efficient strategy to help more people without spending more money, and streamlined oversight over these funds. This bipartisan bill passed the House and Senate unanimously, and the President is expected to sign it into law over the next few days.
Pushed for the State Department to be required to produce a report detailing its actions taken to obtain information on Hezbollah fundraising, financing and money laundering. My amendment tothe Hezbollah International Financing Prevention Act of 2014 (Sec.204) passed the House.
Reauthorized the Victims of Child Abuse Act for our nation's children's advocacy centers, which ensures continued funding of our nation's programs to assist child abuse victims, families and law enforcement around the country. The President signed this bill into law.
Led a letter with 100 Representatives and 84 Senators urging FBI Director Comey, Secretary Kerry, and the Peace Corps IG Office to send a cold case team to Benin to investigate the 2009 murder of Peace Corps Volunteer Kate Puzey. A cold case team was sent to Benin 3 months later.
Led a letter with 15 other Members of Congress urging Treasury Secretary Lew (OFAC) to consider relaxing the trade embargo on Cuba. While there are again constitutional questions with the President's recent announcement on Cuba, ending the trade embargo for agricultural products will help Texas' rice farmers and our agricultural industry.
Introduced an amendment to make the American Community Survey Act voluntary. This is an invasive, mandatory survey sent out by the Census Bureau each year that asks personal questions, such as does anyone in your family suffer from mental illness and how many toilets do you have in your home. Failure to respond runs the risk of a $5,000 fine. Senator Rand Paul introduced companion legislation in the Senate. The House passed this amendment.
In the 113th, Congress I have introduced 48 pieces of legislation that are still pending and will be reintroduced next year. Everything from limiting government spying, reigning in the IRS and the EPA, exporting Texas's energy (natural gas and light crude), approval of the Keystone Pipeline and defunding the President's numerous executive orders. Get the complete list here.
It is an honor to be your Texas advocate in Washington, and I will continue to fight to uphold and defend the Constitution. The opening session of the 114th Congress is Tuesday, January 6. What do you think Congress's priorities should be next year? Email me here to share your thoughts.
Merry Christmas and Happy Holidays to you and your family.