Congressman Tony Gonzales Participates in Oversight Hearing on Privatized Military Housing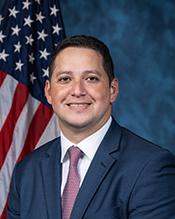 Last week I joined my colleagues on the House Appropriations Subcommittee for Military Construction and Veterans Affairs in an oversight hearing on substandard housing conditions in privatized military housing. I served in the Navy for two decades, retiring Master Chief Petty Officer.
My colleagues and I heard from a panel of military advocates and privatized military housing residents: Pfc. Cody Calderon, Nikki Wylie, military spouse, and Rachel Christian, Founder and Chief Legislative Officer of Armed Forces Housing Advocates. The subcommittee also questioned leadership from Corvias Military Living, Department of Defense, Government Accountability Office, Liberty Military Housing, Hunt Military Communities and Lendlease Communities. During the hearing, Deputy Assistant Secretary of Defense for Housing, Patricia Coury, committed to a housing tour with me in my district. View the full hearing here.
View my line of questioning here.
Highlights
On My Military Experience: I spent 20 years in the Navy so when we talk about [military] housing, I've lived it. My friends have lived it. My loved ones have lived it. Every service member has a story. One of my stories was having a new baby, Daniel, and my family was in housing. We couldn't use our living room because it was like sitting outside; there was no insulation and it was too cold because we were living in Maryland at the time.
Terminating Military Contracts: Two companies here today have either been found guilty of fraud or settled out of court for alleged fraud in the last three years. Since the conviction or settlement, the Department of Defense has expanded its partnership with these companies to provide privatized military housing. The DoD continues to partner with properties that put profits over servicemembers and their families… Secretary Coury, what would it take for you to consider terminating their contracts?
Military Housing is Critical to National Security: [Substandard military housing] is the reason why we're seeing military folks say, "I'm not going to reup." It should not be that way. It is so critical to our manning and so critical to our national security.