DHS Officials Recommend Solutions for Border Security, Cornyn Proposes HUMANE Act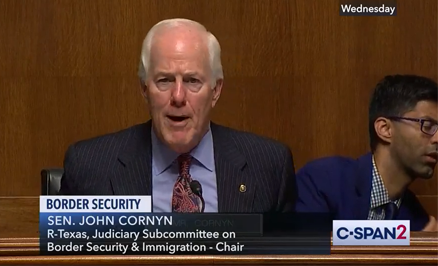 The Senate Committee on Border Security and Immigration met last week for a hearing titled "At the Breaking Point: The Humanitarian and Security Crisis at our Southern Border," in which senators heard testimony from leading DHS and HHS officials about the mounting problems at the southern border and their recommendations on how to resolve them.
Officials explained that ineffective laws, the underfunding of DHS, and a lack of sufficient immigration judges have led to the "breaking point" of what is now a humanitarian, security and economic crisis at the southern border. US CBP and HHS do not have enough resources to handle the largest influx of people crossing the border between ports of entry in 10 years while they wait to have their cases heard following an 869,000 case backlog.
Increasing numbers of migrants and a changing demographic of the people who are crossing the border from single adults to family units are making it harder for DHS to do their job effectively. Senator John Cornyn, who heads the senate committee on border security and immigration, revealed that the number and proportion of family units are greatly increasing.
"In 2006, 90% of illegal border crossings were committed by single adults from Mexico, a vast majority of which were repatriated within a few hours. In FY 2019 so far, more than 60% of those apprehended along the southern border are either families or unaccompanied children…
From October to March, Border Patrol apprehended 189,084 families along the southern border, a 374% increase from the same time period the previous year," he explained.
According to the DHS members' testimony, as of March 31, 2019, 361,087 migrants have been apprehended between the ports of entry in Fiscal Year 2019, representing a 108 percent increase over the same time in FY 2018
Additionally, officers are being pulled away from ports of entry to deal with the large number of crossings between them, which is slowing down the flow of legal goods and people at ports of entry and negatively impacting business and trade between Mexico and the US.
Chief of United States Border Patrol U.S. Customs and Border Protection Carla L. Provost explained how a number of factors are contributing to the problems at the border. For one, the increase in family units that are more vulnerable than single adults and require a more resource-intensive level of care are straining DHS resources.
Provost explained that the Flores agreement is serving as a pull factor for families to cross the border between ports of entry. Because of the settlement, DHS cannot detain children and their parents or legal guardians for longer than 20 days. News of this "loophole" has spread throughout Central America, and people are crossing the border illegally with children in unprecedented numbers knowing that if they are caught they soon be released and asked to appear at a hearing in a couple years.
When asked by Senator Cruz about the extent that catch and release contributes to the recent increases in illegal border crossings, Provost replied that it was a huge pull factor. "My biggest concern is that we will have to start releasing single adults if ICE cannot get enough bed space. What we have seen with family units since we have had to release all family units, is that the numbers have grown exponentially," she said.
The panel was asked by Senator John Kennedy about what solutions they would recommend to Congress to help them do their jobs at the border. Chief Provost asked for additional bed space and housing for ICE, as well as an override of the Flores settlement which prohibits DHS from detaining minors for longer than 20 days. "We have to have the ability to hold families together throughout the immigration process," she said, explaining that it would greatly deter families from crossing the border illegally.  
Manuel Padilla Jr., Director of the West Department of DHS' Joint Task Force, agreed with Provost's recommendations but also called for increasing resources for Border Patrol. "The Border Security situation we have to take care of, that includes personnel, technology, and infrastructure in order to enhance our detection and response capabilities," he said.  
In the same meeting, Cornyn explained that a bi-partisan bill he recently introduced with Representative Henry Cuellar meets a number of the officials' requests and recommendations. The Humane Act includes the following initiatives, several of which were recommended by the bipartisan DHS Homeland Security Advisory Council:
Requires DHS to keep families together during court proceedings and provide additional standards of care for families being held in DHS facilities
Improves Due Process for unaccompanied children and family units by prioritizing their claims for relief in immigration courts.
Clarifies that the Flores settlement agreement applies to unaccompanied children apprehended at the border
Mandates the hiring of additional DHS personnel, upgrades and modernization of our nation's ports of entry to expedite legitimate trade and travel.
Requires DHS to establish four or more Regional Processing Centers in high-traffic areas to process and house family units in a humane environment.
Requires the Executive Office for Immigration Review to assign at least two immigration judges to each of the Regional Processing Centers that DHS is required to establish along the southern border.
While Cornyn's bill lacks certain things that would improve border security like funding for more infrastructure, technology, personnel, and the hiring of a large enough number of immigration judges to impact the case backlog, the bill is a good step and designed to get enough support from both Democrat and Republican lawmakers to pass. "This legislation will not solve every problem, but it's a step forward that will have a big impact and bring some order out of the chaos," Cornyn said of his bill.
Perhaps piece by piece immigrations bills may have more success at passing than recent comprehensive attempts. Along with legislation to secure the border and improve the adjudication of asylum claims, the US will need a solution for the 11 million undocumented immigrants who are already here to earn their legal status so we can ID and tax them properly. No other solution makes as much economic and fiscal sense. It appears that both Republican and Democrat lawmakers are open to such a policy, but Republicans want border security first, and Democrats don't want to give Trump a secure border (one of his key campaign promises) ahead of the 2020 elections.
Today President Trump will deliver remarks on a new immigration plan called "Modernizing Our Immigration System for a Stronger America." Click here to watch it live.