Parts of the Texas Hill Country and Central Texas still in Exceptional Drought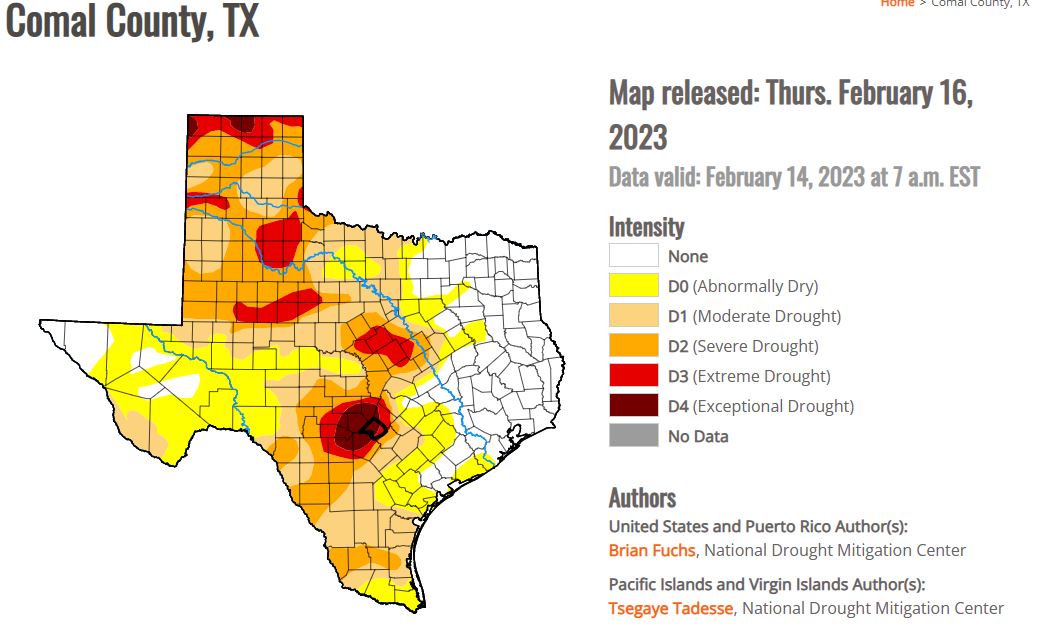 In spite of the rain that has fallen since January 2023 and the ice storm that crippled the Texas Hill Country and other areas, the drought is still present.  Parts of Bexar and Comal counties are still listed as Extreme and Exceptional Drought.  Comal County is 74.41% in the Exceptional Drought area.   The only good thing that's happened is that Comal County lifted its Burn Ban on February 1, 2023.  Just in time to burn the thousands of trees destroyed by the ice storm.   
Texas | Drought.gov
According to Dr. Larry Sunn, Director of Comal Trinity Groundwater Conservation District,(CTGCD) residents are advised to stop watering their grass because the present drought conditions will impact the water supply two years from now.  He also suggested rain capture systems and other water conservation methods as solutions.  I might add that the Guadalupe River at the Rebecca Creek Bridge and the FM311 Bridge is still dry.
Texas governor Greg Abbott issued a proclamation and declared a drought disaster in Andrews, Aransas, Atascosa, Austin, Bandera, Baylor, Bee, Bell, Bexar, Blanco, Borden, Bosque, Brown, Burnet, Caldwell, Callahan, Cameron, Castro, Childress, Collingsworth, Comal, Comanche, Coryell, Cottle, Crosby, Dallam, Dawson, Deaf Smith, Dickens, Eastland, Erath, Falls, Fisher, Floyd, Foard, Gaines, Garza, Gillespie, Gonzales, Grimes, Guadalupe, Hale, Hamilton, Hansford, Hardeman, Hartley, Hays, Henderson, Hidalgo, Howard, Hutchinson, Jones, Kendall, Kent, Kerr, King, Kinney, Lipscomb, Lubbock, Lynn, Martin, McLennan, Medina, Mills, Mitchell, Montgomery, Moore, Motley, Nolan, Ochiltree, Oldham, Parmer, Polk, Potter, Randall, Real, Roberts, Scurry, Shackelford, Sherman, Stonewall, Swisher, Taylor, Terry, Travis, Uvalde, and Yoakum Counties.  https://gov.texas.gov/news/post/governor-abbott-renews-drought-disaster-...
The Texas Hill Country and Central Texas were alerted on January 31 that an ice storm was imminent for the beginning of February.  The ice storm hit with extreme freezing weather and maintained its icy temperatures for three days.  The freezing rain iced the roads, making for dangerous traveling.  The schools were closed as were many businesses.   Power lines broke causing power outages.   Some residents were without power for as long as a week and in some areas of Travis County two weeks. 
The destruction from the ice laden trees can still be seen throughout the region. If you were outside on February 1 or 2 you could plainly hear the trees limbs breaking and dropping off.  It's going to take some time to clear all the damage done.  
On February 4, Governor Abbott signed a disaster declaration for seven counties that were most severely impacted.  I, GREG ABBOTT, Governor of the State of Texas, do hereby certify that severe winter weather and heavy rain pose a threat of imminent disaster, including widespread and severe property damage, injury, and loss of life, due to significant ice accumulations, sub-freezing temperatures, freezing rain and sleet, hazardous travel disruptions, power outages, and heavy rains in Denton, Hays, Henderson, Milam, Smith, Travis, and Williamson Counties.   https://gov.texas.gov/news/post/governor-abbott-issues-ice-storm-disaste....
With the current stream of newcomers, water is a very valuable commodity for the subdivisions being built to accommodate the growth in Texas cities and towns.  Those residing in the areas that are being impacted by the drought especially those who depend on well water should conserve as much as possible.  We should continue to pray for rain. Pastors should pray and encourage their parishioners to pray for rain.  Life cannot be sustained without water, air or food.
Lastly, Texas experiences weather conditions that at times are predictably unpredictable.   
THE RED REPORT©