Texas Governor Hospitalized, Forced to Miss Dallas Police Funerals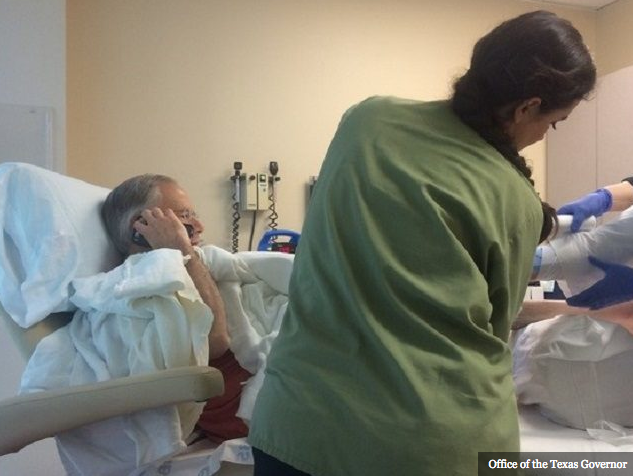 Officials with Governor Greg Abbott's office announced Monday afternoon that he has been hospitalized for treatments related to burns suffered late last week. Abbott was burned by scalding water on both legs below the knees and his feet.
Governor Abbott was admitted to the Brooke Army Medical Center in San Antonio on Monday afternoon after tests revealed a "minor infection" following his burn injuries. The treatment will force the governor to miss the funerals for the Dallas-area police officers who were killed Thursday night, according to a statement obtained by Breitbart Texas. Abbott's burns were also sustained on Thursday while he was out of state.
The governor will receive treatments on Tuesday for his second and third degree burns. Doctors will treat Abbott with skin grafts to repair the damage to both feet. He will also receive treatment for the "minor infection." Doctors will use local anesthesia for the skin grafting treatment.
Governor Abbott did not release the news of his injury until well after the shooting in Dallas that left five police officers dead and many others wounded. Despite the obvious pain, the governor traveled to Dallas to meet with city officials, family members and police officers on Friday when he returned to the state.
Unfortunately, the Texas governor will not be able to attend the memorial service scheduled for the Morton H. Meyerson Symphony Center in Dallas on Wednesday. Texas First Lady Cecilia Abbott will represent the governor at the service. The service will also be attended by President Barack Obama, Vice President Joe Biden and former President George W. Bush.
Abbott's staff said the governor's schedule will be "day to day" through his recovery process.
Responding to well-wishers earlier in the day, Governor Abbott tweeted "Thanks for your prayers & well-wishes. They make my day. Just know that I've overcome tougher challenges."
Bob Price serves as senior political news contributor for Breitbart Texas. Follow him on Twitter @BobPriceBBTX. This article was originally published on Breitbart Texas.