United States Green Beret James ''Jimmy'' Moriarty
by Ted Poe
on December 6, 2016 at 4:28 AM
---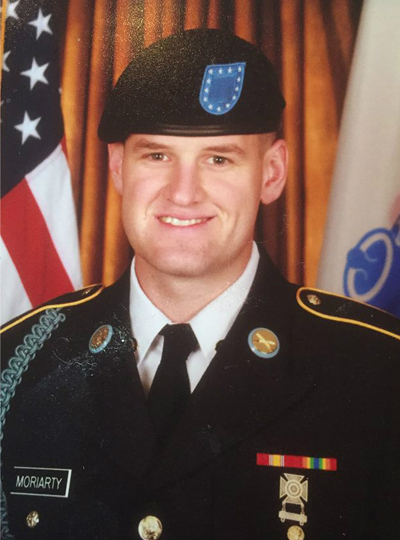 On Friday, November 4, 2016, a military base in Jafr, Jordan was attacked. A hail of gunfire suddenly rang out while three American soldiers were returning to base. The reason for the shots fired is still publically unknown. Three Green Berets from the 5th Special Forces Group were killed in support of Operation Inherent Resolve.
One of these heroic men was Staff Sergeant James "Jimmy" Moriarty (27). SSgt. Moriarty was a Texas native, one of Houston's own. He was scheduled to come home in two weeks to spend the holiday season with his family. His chair will be empty at the Thanksgiving table this year. His voice will be missing from the conversation. But he will not be forgotten.
Jimmy was unquestionably one of the best. Growing up in Houston, he earned his bachelor's degree in economics from the University of Texas and spoke fluent Arabic. As part of the 5th Special Forces Group, based out of Fort Campbell, Ky., he was more than three months into his third tour in Jordan.
Upon graduation from the University of Texas, Jimmy made the choice to serve his nation in the United States Army. Jimmy was a proud member of the United States Army Special Forces. He was a special breed, one of the few who met the requirements to be among the highest ranked military professionals in the United States, the Green Berets.
During his service, he earned the Good Conduct Medal, National Defense Service Medal, Global War on Terrorism Expeditionary Medal, Global War on Terrorism Service Medal, NCO Professional Development Ribbon and an Army Service Ribbon.
The brave men of the Green Beret are our nation's warriors. They take on the toughest missions that our nation faces. They are the absolute best that America has. These men are the forces who deter enemies who seek to harm the United States. They respond to terrorist activities to keep the United States safe. Proudly wearing silver wings on their chests they are without question Americas finest.
Mr. Speaker, In the words of Marcus Luttrell, "In times of uncertainty there is a special breed of warrior ready to answer our Nation's call; a common man with uncommon desire to succeed. Forged by adversity, he stands alongside America's finest special operations forces to serve his country and the American people, and to protect their way of life." Jimmy Moriarty was one of these men.
Jimmy's father, U.S. Marine Corps Vietnam Veteran, James R. Moriarty wrote, "This is a young man who loved serving in the Army, was where he wanted to be, doing what he wanted to do." Moriarty was loved by his two sisters who incessantly saw to it that their younger brother would be a well rounded young man. It is without a doubt that this distinguished soldier will be missed by his family, friends, and community. 
We grieve the loss of this American warrior, but we celebrate and honor his life and his service. We are fortunate to have a Green Beret like Moriarty standing in support of our country. We are fortunate that a man like Jimmy served our great nation. He stood for the best of those American ideals and values exemplified in Special Forces. He is a son of liberty. He epitomizes everything that America stands for.  Our thoughts and prayers are with his family and friends.
At noon on December 5, 2016 taps were played for the last time as Staff Sergeant James Moriarty is surrounded by his family and friends and will be buried in Arlington National cemetery next to thousands of other warriors who died for America.
And that's just the way it is.