Bankruptcy Courts Part 8 - Vexatious Litigation and Abuse of Legal Process?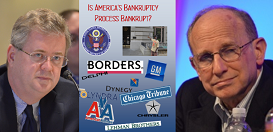 In this series of articles, we have addressed cases involving Delphi employees being stripped of their pensions without representation, General Motors being swept through the bankruptcy process in 44 days leaving an undocumented, perhaps illegal, transfer of funds in its wake, and collective bargaining agreements being treated differently depending on which unions were involved in both the Delphi and Hostess bankruptcies. These cases appear to demonstrate unequal protection under the law and the inconsistent application of legal processes. Judges should be fair and consistent in how they apply the law. They should also be responsible for getting it done right. In the cases mentioned above, it is easy to conclude that did not happen. 
Perhaps it is the building itself that leads to these abuses. Or maybe just the legacy of the site upon which the Southern District of New York (SDNY) Bankruptcy Courts sit. For this site was once a massive slave auction site. In the picture below, Dub Poet Infinity, a street vendor who works on the grounds of the courthouse, points out the very spot upon where abuses of human rights took place. To this day, abuses of citizens' rights are still taking place.
In the next two cases, we are finding something much darker, almost sinister in nature. In the Chicago Tribune and LyondellBasell bankruptcy cases, I have discovered a process where frivolous lawsuits are being filed against shareholders of the original pre-bankruptcy companies. It is all part of a process where unsecured creditors are set up with a litigation trust fund as part of the settlement agreement. This litigation trust enables unethical attorneys to abuse the legal processes to practically extort money from people who had little to no bearing on the company's bankruptcy. Imagine you are being sued simply for buying or owning stock in a company! That is what is happening here.
This process, if allowed to continue, could undermine the very core of our financial investment industry. If you think your 401K is safe, think again. Bankruptcy lawyers can sue you simply for the mere ownership of stock. In the case of LyondellBasell, some of the people being sued are stockholders who never even purchased LyondellBasell stock or worked for the company (but acquired the stock prior to the merger and leveraged buyout).
How does this happen? When companies enter into Chapter 11, the goal appears to move them as quickly as possible through the process. One of the obstacles to this is the unsecured creditors.  Because of the nature of unsecured debt, these creditors have the most to lose in Chapter 11.  And, in many cases, the loss of these debts represent a substantial threat to smaller companies who have sold products and services to the big corporation. They have the ability to slow down the process by filing claims of fraudulent transfer or other claims which delays the bankruptcy courts ability to quickly move the company through Chapter 11.
In order to avoid these lawsuits, the secured creditors and the courts set up what is called a "litigation trust" upon which the unsecured creditors' lawyers can draw upon funds to file lawsuits against others from whom they believe they can extract money for their clients. This creates a "berserker" mentality where firms like Brown Rudnick (infamous tobacco litigant) file thousands of cases with little or no merit or a multitude of repetitive litigation tactics designed to force people into settlement agreements even though they have no liability whatsoever.
In Texas, we used to have a problem with the plaintiff lawyers filing all kinds of frivolous lawsuits. We passed meaningful tort reform legislation that has drastically reduced these types of cases in Texas. Judges are supposed to protect the public from vexatious litigation. These kinds of cases represent real abuses of our legal process.
Because of the number of Texans being affected by these cases, I took the opportunity to speak with Texas Attorney General Greg Abbott at an event we both attended recently. Pensioners have been robbed of their retirement funds, workers who can't afford to defend themselves are being sued by highly paid New York City lawyers who are charging exorbitant fees, and others who simply invested in the stock of a company are being threatened with imminent financial destruction.  Abbott instantly understood what is at stake here and said he would be happy to look into this further.
In the case of LyondellBasell, Judge Robert Gerber, who should be looking out for these kinds of things, is simply sitting by allowing it to happen.   Defendants in these meritless cases have filed motions to have cases thrown out, motions for summary judgment, motions that have been pending since November 2009.  Normally these types of motions are ruled upon in a timely manner.
In Gerber's court, that is not the case. He has been sitting on motions for over three years. Three years of innocent financial investors having to pay their own attorney's legal fees to defend themselves against these "berserker" lawsuits.
During the National Council of Bankruptcy Judges (NCBJ) Conference in San Diego last year, I spoke with a supervising judges of a different district of bankruptcy courts about these delays. The judge said, "This would never happen in any of my courts." Nor should it happen in any court. Does this kind of delay border on judicial misconduct?
Judge Gerber might say this delay was caused by defendants filing an action for relief before Federal District Court Judge Denise Cote, a real Article 3 federal judge. The process before her court took almost a year. But that ended over a year ago and still no action, even after Judge Cote ordered Gerber to clean these cases up and make a ruling. Is he throwing a judicial hissy fit over being told what to do by a real judge?
These delays are devastating to people whose only crime was going to work and investing in their company's 401K program. Or to people who simply own stock in a company they never even worked for. Could something like this happen to you?  If Gerber and these lawyers have their way, it certainly could.
In the coming weeks, TexasGOPVote will bring you real stories from some of these real victims. It is important that you understand who they are and what happened to them. In many cases, their story could be your future.