Congressman Lamar Smith CD21 Speaks on the Iran Deal, Sanctuary Cities, Defunding Planned Parenthood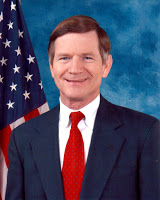 Congressman Lamar Smith has been reaching out to his constituents in Congressional District 21 and receiving favorable results. CD21 includes parts of Bexar, Travis, Comal, and Hays Counties and all of Bandera, Blanco, Gillespie, Kendall, Kerr, and Real Counties. There are an approximate 700,000 people living in this CD. He serves as chairman of the House Science, Space, & Technology Committee and is a member of the Committee on Homeland Security, and the House Judiciary Committee, on which he also served as chairman. He is also founder and chairman of the House Border Security Caucus and has previously been named the most effective lawmaker in Congress.
As Chairman of the Science, Space and Technology Committee, Smith introduced a bipartisan bill that was recently signed into law called the STEM Education Act of 2015. This bill will include computer science and was approved unanimously by both the House and the Senate. Unfortunately, America is no longer #1 in STEM education. In fact, American students rank 21st in science and 26th in math. The STEM Education Act will encourage students to study these subjects and will train more teachers.
Some of the other bills and issues that he has been working on are stopping sanctuary cities from proliferating in order to make America a safer place to live. In an article in the Express News authored by Smith he wrote that, "The first step must be to hold sanctuary jurisdictions accountable for violating current law."
Smith stood before the house in September and said that the Iran Deal will embolden our enemies and listed four reasons why to oppose this horrible deal which will endanger not only the US but the world.
First, it allows Iran to develop nuclear weapons in the future. In other words, Iran would not even have to cheat on the agreement to obtain a nuclear bomb.

Second, it frees up as much as $150 billion in assets for Iran. These funds inevitably will be used by Iran to export terrorism, as the president himself has admitted.

Third, the long-standing arms embargo against Iran will be lifted. This enables Iran to acquire weapons that could be used against our allies. In fact, Iran plans to buy long-range surface-to-air missiles from Russia by the end of the year.

Fourth, there is no credible way to conduct inspections of Iran's nuclear weapons-building sites. Under the proposed deal, Iran is given weeks, if not months, of advance notice of any inspection. This provides ample time and opportunity for Iran to hide evidence of nuclear weapons activities and violate the agreement. Secret deals that the administration hid from Congress and the American people have now been revealed. One secret deal permits Iran to conduct its own inspections at a military facility suspected of ties to nuclear weapons. I am glad that the House is taking action to disapprove of the Iran deal. But the 60-day window for considering this deal has not begun until Congress has received all documents involved in this deal.

Finally, this deal endangers Israel, one of our oldest and strongest allies. No other nation is at more risk of a nuclear attack from Iran than Israel. By increasing the odds of a nuclear Iran, this deal directly threatens the security and future of Israel.
As a staunch supporter of Pro Life, his San Antonio office was targeted by the Planned Parenthood national #pinkout protesters on September 29, because of his consistent vote against funding Planned Parenthood. In a statement to the Express News, Smith said that, "The videos that have surfaced reveal morally repulsive and gruesome practices, such as babies being harvested for their organs. This is why Congress launched an investigation into Planned Parenthood's practices, and this is why I voted to defund Planned Parenthood last week."
In the same article, "About 50 people show support locally for Planned Parenthood", written by Melissa Fletcher Stoeltje, San Antonio Family Association supported Smith and "all those working to put an end to inappropriate taxpayer funding for Planned Parenthood. If Planned Parenthood really cared about women, they would be honest and upfront about the true nature of the work they do and how they drive profits."
TESTIMONIALS:
Congressmen Lamar Smith is doing an excellent job in Congress. The work that he has been doing on his committees has been very good for the taxpayers holding the EPA Chair, Gina McCarthy accountable for statistics involving regulations is major.
I recently had the opportunity to ask Congressman Smith about a regulation coming out of the Obama Administration giving HUD Secretary Julian Castro federal power to be involved with local zoning. This directive is the 'Affirmatively Furthering Fair Housing' regulation. This regulation will have a direct impact on communities by changing zoning laws to enable low cost/subsidized housing to be built in suburban areas. This will have a direct impact on schools, transportation, businesses, and taxes. The social engineering aspect will greatly affect the voting patterns of precincts in traditionally Republican areas. By noon the next day his staffer in DC said that Congressman Smith is now a co-sponsor of the Gosar Amendment, "The Local Protection and Property Rights Protection Act".
I thank Congressman Smith and his staff for being so responsive to my concerns about a very important issue.
DEBBIE WALL
Bexar County
I have known Congressman Lamar Smith since he first ran for the US Congress. He is the best possible Representative we could have representing our voice in Washington. He knows the everyday challenges faced by residents of rural areas, the farmers, the ranchers, small business owners, veterans, families and senior citizens.
He fights for a balanced budget, more jobs, better economy, family values and less government. He has what it takes to work across the aisle to get things done. He is a Keeper!
LILA WARD
Bandera County Precinct Chairman
It would be wise if his opponent would take more time in telling us who he is and what he intends to do instead of spending his time trying to destroy a well-respected congressman. The fact is this opponent with no qualifications is guilty of 'coveting' the position and which in my estimation is not an admirable attribute for a wannabe US congressman.
I support Congressman Lamar Smith and ask for your support in reelecting him in 2016.
THE RED REPORT
RED SONJA
Pray, Fight, NEVER GIVE UP!
Stopping sanctuary cities will make nation safer
http://www.mysanantonio.com/opinion/commentary/article/Stopping-sanctuar...
Smith Responds to Planned Parenthood Attacks in Midst of Defunding Battle About 50 people show support locally for Planned Parenthood
http://www.expressnews.com/news/local/article/About-50-people-show-suppo...
Smith: Iran Deal Emboldens Our Enemies
https://www.youtube.com/watch?v=riWpCM6uWds&feature=youtu.be