Honey Creek is a Signature Away From Pollution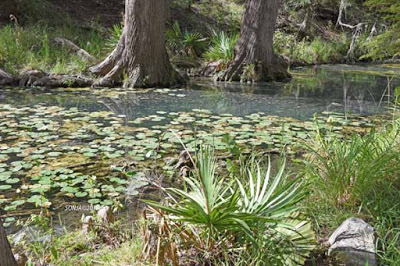 It wasn't too long ago that we moved to the Texas Hill Country to find a quieter lifestyle than our hometown of San Antonio.  What motivated us was the beauty of the small ranch property we owned by the beautiful meandering Guadalupe River.   Where the wildlife and flora was still untouched.   In fact, I have spent years photographing the last remnants of the old Western Comal County that is now almost hardly visible.  Living on our ranch has also given me not only insight to all the quiet beauty of the area but an opportunity to photograph wildlife and wildflowers indigenous to this region. 

The adventures living on a ranch were beyond what I ever expected.  Drinking water coming from water wells.  Watching the deer and turkey roam freely, seeing creatures I had not ever seen before like fox, porcupines, coyotes and flocks of birds gathered at the pond and the more familiar rabbits, raccoons and squirrels.  

Nature has a way of making decisions for us.  Drought in the Hill Country has just about killed new growth of plant life and hurt the wildlife.   The flooding that occurs in this area has proven to be devastating to property.  To date we have experienced a couple of floods that have ripped our fences and rebuilding fence lines has been costly and not an easy task. 

When I first began documenting the wildflowers, one of my biggest fears was that they would soon disappear from the roadside because of all the new construction underway for house development.  Never in my imagination did I foresee that 25 years later the highway construction that is now happening on 281N from San Antonio to Comal County would change the landscape that I had grown so accustomed to seeing on my frequent trips to my native city.  The rugged hillside is gone.  Visibly seen as dust in the air and the flora has been crushed along with the rocks that are now gravel.  I don't want to think about what has happened to the small wildlife scurrying to find refuge. 

Today more and more people are moving from other states like New York and California because of low taxes and a promise of renewal.  When the 281N highway is completed, we should expect a tsunami of people moving further into the Texas Hill Country.  And the developers will accommodate by making way for more housing attracting even more growth.  As the Hill Country grows in population so does the pollution that is affecting our waterways. 

Honey Creek Nature Park acquired by the state in 1985 and 1988 is one area that is being impacted by this growth.   The untouched natural area contains 2,761 acres that runs next to Honey Creek, an approximately two mile long permanent stream.  Access to this area of the state park is restricted to guided hikes and can be toured on Saturday mornings at 9:00 am. 

Last year, Silesia Properties applied to the Texas Commission on Environment Quality (TCEQ) Permit No. WQ0015688001 for new Texas Pollutant Discharge Elimination System (TPDES) for authorization to discharge treated domestic wastewater at a daily average flow not to exceed 500,000 gallons per day that will flow into Honey Creek.

Honey Creek Ranch, which is off Highway 46W is planning to cram 2,396 houses on only 592 acres, which is about four houses per acre that will discharge the treated wastewater into the pristine waters of Honey Creek.  This will have a negative impact on the fish and other aquatic species which will include vegetation.   If you haven't visited the nature park, you should before the beauty has withered from the wastewater that will merge into its stream.     

It is impossible to stop the growth that will very soon consume the Hill County, the only recourse is for residents to insist on how the wastewater will be treated so that the negative impact to the waterways is diminished or eliminated.    According to information supplied by The Greater Edwards Aquifer Alliance (GEAA), the wastewater flow would remain largely intact as it enters the Guadalupe River from Honey Creek.  This wastewater will taint the river and many residents fear this wastewater could possibly contaminate the water wells in the surrounding vicinity. 

In a letter dated December 3, 2018 to Bridget Bohac, TCEQ Chief Clerk signed by Annalisa Pace, Executive Director of GEAA there is a very disturbing section that we can all understand because of the tremendous heat we are experiencing this summer.

Streamflow discharge measurements made near the mouth of Honey Creek indicate that often there is no flow in Honey Creek, especially in summer months, which means at certain times the entire flow in the creek would be wastewater, creating an algae-filled stream high in nutrients and low in aquatic life.  Even during average flow conditions, almost half of the streamflow would consist wastewater. There simply isn't enough natural flow in Honey Creek to offset the proposed 500,000 gallon/day wastewater discharge

For those of you that are interested in steps to contest the permit to discharge wastewater into Honey Creek, there will be a meeting at the Mammen Family Public Library at 131 Bulverde Crossing in Bulverde, Texas, on Tuesday, October 1, 2019 at 6:00pm.  This meeting is sponsored by Greater Edwards Aquifer Alliance.   If you would like to contact the elected officials in the area do so as they both live in the Texas Hill Country.  
THE RED REPORT©
RED SONJA
Fight, Never give up!

Senator Donna Campbell 
512 463 0125
PO Box 12068
Capitol Station
Austin, Texas 78711

District Office
229 Hunters Village, Ste 105
New Braunfels, Texas 78132
830 626 0065

Representative Kyle Biedermann 
512 463 0325
512 463 6161

District Address
616 W Main St Suite 101
Fredericksburg, Texas 78624