John Kerry Endangers Our Nation and Should Resign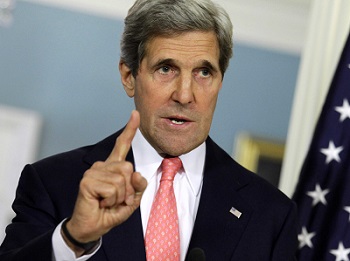 I issued the following statement Tuesday in response to media reports that former Secretary of State and current Climate Envoy John Kerry informed an Iranian official about covert Israeli operations:
John Kerry should resign — not because of the reported troubling statements, per se, but because he is a fool and endangers our nation and Israel.  He is more interested in preening on the international stage and pretending to be Secretary of State while promoting unicorn energy policies that empower Iran, China, and our enemies rather than America and Israel.  Of course, this is not new, as the Biden administration has a habit of stabbing Israel in the back at every possible opportunity. From calling Putin and Xi Jinping before Netanyahu to restarting negotiations on the failed and dangerous Iran Nuclear Deal, President Biden apparently is trying to outdo the abysmal record of his former boss, Barack Obama, in that regard.
Let's be clear, the State of Israel is one of the most important allies in the world, and a strong Israel helps keep Americans safe both at home and abroad. Iran is a murderous regime that wants to destroy both us and Israel.  President Trump's pro-Israel record has ushered in advancements in Middle East peace heretofore believed to be impossible.  We shouldn't abandon it, we should build on it.
There should be absolutely no question whose side America is on. Indeed, the only question we should be asking is if Joe Biden stands with John Kerry, Iran, and our enemies or with Israel. Which is it, Mr. President?