Schumer Again Blocks Cornyn Drug Pricing Bill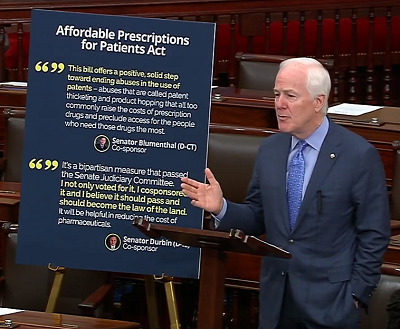 Yesterday, U.S. Senate Democrat Leader Charles Schumer (D-NY) blocked passage of my bipartisan drug pricing bill with Sen. Richard Blumenthal (D-CT) for a second time. Sen. Schumer's two top deputies in Democrat leadership, Sens. Dick Durbin (D-IL) and Patty Murray (D-WA), are cosponsors of the bill. Excerpts of my floor remarks are below, and video can be found here.
I can't think of any other reason for the Democratic leader to object than pure politics. He doesn't want anybody to get a 'win.' That goes for the senator for Iowa when she's offered a bill to reauthorize the Violence Against Women Act; she happens to be on the ballot in 2020 as well.
The only rationale I can possibly think of that the Democratic leader would continue to object to these bipartisan consensus bills is just he doesn't want somebody to able to score a point on this side because he feels like that will disadvantage his candidates in the next election.
The Democratic leader, in objecting to the passage of this legislation, does have one very big and powerful cheerleader behind him, and that is the drug companies.
The truth is they hate this bill and they don't want to see anything done on this issue.