Voting for a Fully-Funded, Non-Woke Military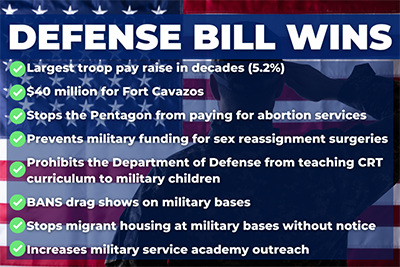 In Congress, we have a great responsibility to ensure our men and women in uniform have the necessary tools and resources to defend the homeland. 
Today, I was proud to vote for the House version of the National Defense Authorization Act (NDAA), which includes the largest pay raise for our troops in decades while refocusing the Department of Defense on keeping our country safe.
The NDAA includes a $40 million MILCON investment at Fort Cavazos, and a 5.2% pay raise for troops—the largest increase in decades. We passed amendments to prohibit critical race theory from being taught to military children, stop the Pentagon from paying for abortions, and ban drag shows on military bases. 
It is time for our military to refocus on lethality, and this bill sets our country on the right course. 
I am proud that this NDAA includes my amendments to require the Pentagon to alert local, state, and federal officials no less than 90 days before housing migrants in military bases in their communities, develop and implement policies that create a unified datalink strategy, provide more expansive training opportunities for our service members, and more efficiently counter unmanned aerial systems. It also includes my bipartisan amendments to expedite the delivery of KC-46As to Israel and provide training to Israeli Air Force pilots, aircrew, and maintainers, and promote awareness and interest in the United States service academies to inspire the next generation of leaders in our country address our nation's recruiting shortfalls."
Read all six of my amendments:
Pfluger (R-TX) – Amendment #42 – Requires the Secretary of Defense to notify local, state, and federal elected officials not later than 90 days before the Department of Defense uses, creates, or repurposes a military base to house migrants
Pfluger (R-TX) – Amendment #212 – Requires DOD to develop and implement policies to adapt Link-16 system management and certification to align with agile development practices
Pfluger (R-TX) – Amendment #213 – Requires DOD to expand Tier 1 training exercises
Pfluger (R-TX) – Amendment #214 – Requires DOD to report on incidents involving unmanned aerial systems and related training exercises
Pfluger (R-TX) – Amendment #215 – Requires DOD to expedite KC-46A deliveries to Israel and provide immediate training slots for Israeli pilots, maintainers, and air crew
Pfluger (R-TX) – Amendment #216 – Requires DOD to invest personnel into going into districts to increase awareness of what a future in military service provides to their future