Health Care Civil War, State Governors and Attorneys General Fight Over Health Care Lawsuit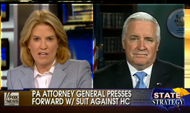 Huge arguments have been erupting between state governors and attorneys general since the passage of the health care reform bill.
Nevada Governor Jim Gibbons (R) has asked Nevada AG Catherine Masto (D) to join lawsuit against the health care overhaul but she refuses, saying it would cost a lot of money and that it's a weak suit. Gibbons is looking into whether he can trump Masto's refusal. According to Nevada law, Gibbons says, "the Attorney General shall bring a case when asked by the governor." Governor Gibbons is also looking at whether the state can take pro bono work from law firms and has already been bombarded by law firms and individuals offering to do it for free.
Pennsylvania Governor Ed Rendell (D) and Pennsylvania AG Tom Corbett (R) are clashing over health care legislation - Corbett wants to file suit but Rendell doesn't want him to. However, under Pennsylvania state law, it is the AG's duty to protect the state and Corbett says he can go ahead with it. AG Corbett says the federal government is overreaching its powers. Watch as Greta Van Susteren interviews both Jim Gibbons and Tom Corbett below:
Also, in Georgia 31 state representatives have called for impeachment of Georgia AG Thurbert Baker (D) because he does not want to join the lawsuit against the federal government and therefore, is not upholding his job to represent the people. Georgia Governor Sonny Perdue (R) also is requesting Baker to join the lawsuit. There are 3 weeks left in the Georgia State Legislature. Right now the vote count in the House is close.