Interview with Rep. Tom Craddick of the Hispanic Republican Conference (VIDEO)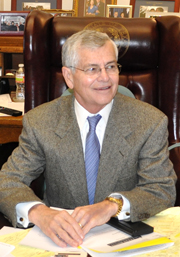 The following interview with Representative Tom Craddick is one of a series of interviews conducted by VOCES Action and TexasGOPVote with members of the Hispanic Republican Conference in the 82nd session of the Texas Legislature. Speaker Craddick is a member of the Texas House of Representatives from House District 82 representing the counties of Crane, Upton, Midland, Martin, and Dawson.
On January 11, 2003, after thirty-four years in the House, Rep. Craddick became the first Republican Speaker in more than 130 years. He held the presiding officers position for six years.
I asked Rep. Craddick about his values and what shaped those values and about the issues that are important to his district. We also discussed the oil and gas industry and its importance to his district and to all of Texas. Speaker Craddick also explained that he is a member of the Hispanic Republican Conference and that Hispanics and Republicans have many issues in common. His office is decorated with many gavels, many of them reminders of his time as a Speaker of the Texas House of Representatives.
I enjoyed my time with Speaker Craddick as I interviewed him and talked to him off camera. It was an honor for me to meet a man who has been serving the Texas House for over 40 years ( since 1968). Speaker Craddick was very kind as we spoke and I look forward to more conversations with him in the near future. I strongly identified with his values, and it was truly an honor to meet him.
Video and a transcript of the interview are included.
The membership of the Hispanic Republican Conference has been growing. Originally it was formed by the House's five Hispanic Republicans but has since been joined by other State Representatives whose districts have at least 30% Hispanic constituents. The Hispanic Republican Conference will be addressing some issues that have been controversial in parts of the state with large Hispanic populations.
Hispanics make up 36% of the Texas population and this percentage is growing. Hispanics share Republican conservative values of fiscal responsibility, faith, hard work, family values, and are pro-life. VOCES Action has been educating and empowering Americans with Hispanic backgrounds, and who hold conservative values, to make more responsible and informed voting decisions.
TRANSCRIPT OF INTERVIEW:
Adryana Boyne: We are here in the office of Speaker Tom Craddick and we are going to ask him a few questions about what he is doing and about the Hispanic Republican Conference. First of all, Speaker Craddick, I would like to ask if you can tell us a little bit about your values and what shaped those values.
Tom Craddick: Well, Im a conservative from West Texas, I grew up in West Texas and its a very kind of a can-do type attitude out there where I grew up - very independent area of the state where people are very independent type business people... so my values are pretty family related, I grew up Catholic and I am a Catholic, so I am very faith oriented and very conservative.
Adryana Boyne: Why did you choose to be part of the Hispanic Republican Conference, Mr. Speaker?
Tom Craddick: Well I think there are several reasons. One I think that the Hispanics and the Republicans have a lot in common, but also the large part of my district, more and more, is becoming Hispanic and a lot of the surrounding counties for our district, and I felt that I needed to know their issues so that I could represent them better.
Adryana Boyne: Tell us about the people in your district, what are the issues that they are concerned with?
Tom Craddick: My district is basically an oil and gas related district so they are very concerned with oil and gas, with jobs, with benefits for employees, healthcare, like a lot of other areas... but we have water as a big concern for us because we have more oil than we have water in West Texas, so that, those are problems. So I would say jobs, the oil industry, healthcare, the same type things that a lot of others are... only that our focus is on oil and gas.
Adryana Boyne: Well developing the oil and natural gas resources on US territory will lead to US jobs and energy independence, yet Democrats and environmentalists are dead set on preventing this. How can we move forward with developing those resources in Texas as well as in other states?
Tom Craddick: Well weve got to have oil and gas in this country to make the country survive and for industry to survive and for you and I to be able to drive our cars and things like this. Weve done a lot environmentally through the last 25, 30 years, to make huge changes, where its safer, were not polluting water, ground water, things like this. So I think that development of oil and gas is not a risk for our environment but its a plus.
Adryana Boyne: One of the misconceptions about Hispanics, Mr. Speaker, is that most Democrats believe that Hispanics should be Democrats. Can you tell me what are your thoughts about that?
Tom Craddick: Well I think that Hispanics should be Republicans, really, weve got the same family values, which is huge, in their environment and in ours, which is a gigantic issue. We have the same... most of them are very conservative, with their dollars, they work hard, Republicans do the same, so I think on a job base, on religious issues and those type of things were very common.
...Your question about Republicans, or Democrats, what Hispanics should be, I think were seeing more and more where the issues, the legislative process, the Hispanics are moving more and more with the Republicans, and they realize that faith, jobs, education, hard work, all those are common grounds.
Adryana Boyne: Well that is important and also the part that we need to educate and empower the Latino community with those values because many times they vote Democrat because of ignorance, because they dont really understand what the Democrats are standing for. But once they know... and in the side of those who are not Hispanics, what I have told them, its always like, we need to be just careful about how we use our rhetoric because sometimes it is misunderstood...
Tom Craddick: Right.
Adryana Boyne: ...and once we learn all those issues I think more Hispanics are going to be really looking at the Republican party and voting with us.
Tom Craddick: I do too and I think a lot of them have been just used where they are taken for granted, but if you look at the issue you realize gosh I dont work for that and we believe in family values, we believe, you know, in working hard, you ought to get paid for what you do, I mean a lot of those things are there.
Adryana Boyne: I also see a lot of gavels here in your beautiful office, can you tell me what those gavels mean to you, Mr. Speaker?
Tom Craddick: Well its been great, a lot of them have been from when I passed a first bill, or when I was speaker and we gaveled in the first day and things of this nature, and the ones on the wall are with the flag, that was the flag that we flew over the Capitol on the first day that I was elected speaker and the gavel we used to swear me in. Its memories, its got a lot of good memories.
Adryana Boyne: How many years were you speaker, Mr. Craddick.
Tom Craddick: Six.
Adryana Boyne: Well we want to thank you not only for serving the people of your district but as well for serving all Texas and also for the fact that you are a member of the Hispanic Republican Conference, and I want to thank you for taking your time with us...
Tom Craddick: And thank you for asking me to participate, I appreciate it.