State Rep. Connie Scott on Representing a Minority Majority and the Conservative Trend in South Texas (VIDEO)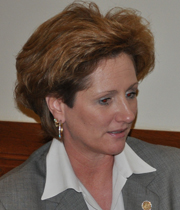 The following interview with Texas State Representative Connie Scott is one of a series of interviews conducted by VOCES Action and TexasGOPVote with members of the Hispanic Republican Conference in the 82nd session of the Texas Legislature. In 2010, Connie Scott was elected to her first session in the Texas House of Representatives serving District 34, which is located in Nueces County.
Rep. Scott had a few minutes to come off the House floor to step outside to speak with us for a short interview. She told us why she got involved in politics. She also explained that she is also a member of the Hispanic Republican Conference and that the Hispanic population in her district is growing. Rep. Scott believes that the values of Hispanic Texans are conservative values. She serves on the Defense & Veterans Affairs, Judiciary & Civil Jurisprudence, and Local & Consent Calendars (Procedural) Committees.
Her husband was a Vietnam War veteran and her daughter serves in the Navy. The Hispanic Republican Conference has been growing. Originally it was formed by the House's five Hispanic Republicans but has since been joined by other State Representatives whose districts have at least 30% Hispanic constituents. The Hispanic Republican Conference will be addressing some issues that have been controversial in parts of the state with large Hispanic populations.
Hispanics make up 36% of the Texas population and this percentage is growing. Hispanics share Republican conservative values of fiscal responsibility, faith, hard work, family values, and are pro-life. VOCES Action has been educating and empowering Americans with Hispanic backgrounds, and who hold conservative values, to make more responsible and informed voting decisions.
TRANSCRIPT OF INTERVIEW:
Adryana Boyne: Hello, we are here with Representative Connie Scott. Thank you so much for taking time from your busy schedule on the floor so that you can interview with us.
Connie Scott: Thank you, its nice to be here. Thank you very much.
Adryana Boyne: First of all, I would like to ask you what got you involved with politics and how long have you been involved in politics?
Connie Scott: Well, Ive been involved in politics for some time and my community, and Ive been involved in various charities and nonprofit organizations, but this is my first political office to hold, to run for office.
Adryana Boyne: I also wanted to ask you if you can tell us a little bit about the people in your district and what are the issues that they are concerned with?
Connie Scott: Right now, the issues are, across Texas and across the country, basically everyone is concerned with budget constraints. I think, individually, we all have concerns there, whether youre a teacher or youre in the nursing home industry or youre a state employee, or whatever you are, and I think the best thing we can do for Texans is to help lead the state back to conservative values were responsible, as difficult as it is, we have to make those difficult decisions, but we have to be cognizant of the fact that these are real people with real issues.
Adryana Boyne: You are part of the Hispanic Republican Conference that recently was formed, can you tell us what motivated you to join this conference?
Connie Scott: Well, I represent an area that is minority majority, and I think in order to represent them well, I need to be involved. Im happy to be here, Im happy to be a part of this.
Adryana Boyne: Most Democrats say that we Hispanics should vote Democrat. Can you tell me why you do you disagree with that?
Connie Scott: Well, I do have to disagree, and I think that Corpus Christi and Nueces County is a perfect example of that and Hispanics are very family oriented, you start talking about the home, and I think they are more of Republicans than some Republicans, I believe they believe in hard work just like we do, and I think there are so many issues that we can come together on. I think that if you sit down and talk to anyone individually, I could certainly argue the point that they are more Republican.
Adryana Boyne: Thats one of the things that I do with VOCES Action, educating and empowering the community with those values so they can understand those values and they can really think before they go and elect somebody. Im so glad you were elected. Now, Corpus Christi and Nueces County are highly Republican as we have seen in the last elections. Tell us more about that trend and what you are seeing in your district regarding this?
Connie Scott: I think we all saw in this election cycle, most assuredly, the trend for people to want fiscally conservative people in office. They want us to stop spending more than we have, like we do in our homes. People expect our elected leaders to behave like we do, and not talk out of both sides of your mouth. At home, times are tough, you cut back, as difficult as it is, those decisions have to be made, they really expect it to be made in office as well.
Adryana Boyne: Can you share a little bit about the committees that you are involved with and a little bit about what you are doing with those committees?
Connie Scott: I serve on the Judiciary and Civil Jurisprudence Committee, and I sit on the Local and Consent Calendars (Procedural) Committee. I also sit on the Defense and Veterans Affairs, Im very proud to be on that one as well. My husband is a Vietnam Vet, my daughter is currently serving in the Navy, and then I also sit on the South Texas Republican Policy.
Adryana Boyne: Well thank you very much. I want to ask you to continue fighting for our values, and also thank you for representing your district all of Texas. Thank you very much.
Connie Scott: Thank you so much.