Letter to Chairman Smith Regarding Sensible Immigration Reform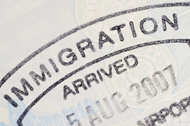 The Honorable Lamar Smith
U. S. House of Representatives
2409 Rayburn House Office Building
Washington, D.C. 20515 and 1100 N.E. Loop 410, Suite 640
San Antonio, TX 78209
Dear Mr. Smith:
We appreciate your 24 years of dedicated Congressional service. As Chairman of the House Judiciary Committee, you are in a position to solve our immigration dilemma.
No American should oppose securing our borders. However, focusing solely on enforcement is not in the best interests of the United States, Texas, or the Republican Party. We have been telling hardworking people who have been here for years that we want them to comply with the law, and yet we have provided them no legal process. We have no viable temporary worker program for most jobs. The H-2B program is limited numerically and is seasonal. We have an annual quota of only 5,000 for unskilled workers who beg to do the jobs that most Americans are not willing to do.
Why set a limit of 5,000 per year? How many of us have been guilty of saying we do not object to immigrants, but we simply want them to comply with the law? For the 12 to 15 million that are here, compliance is impossible! Current law requires them to return to their country of origin, wait 10 years, and then apply for re-entry! No reasonable person is going to take the chance they will not be allowed to return for 10 to 15 years!
Why not expand your E-Verify bill? Give employers an incentive to sign up for mandatory E-Verify by expanding your bill to include mandatory criminal background checks and work permits for undocumented workers that have no criminal record. Allow workers (to whom we issue permits) to work only for employers that deduct and match taxes!
Finally, why push mandatory E-Verify by itself? Is it really in the interest of Texas and America to force millions of individuals into the underground economy where they no longer pay taxes and have workers compensation? We only need to look to Arizona, Georgia, and Alabama. These are states that passed enforcement-only laws. As test tube models they are proving U. S. workers for the most part are not filling the jobs vacated by illegal immigrants. Arizona has been at it the longest, and the economic results are a disaster! That is why Republican Senator Russell Pearce was recently booted out in a recall election!
Congressman Smith, we hope that you will consider a balanced approach rather than enforcement only. The evidence is clear, enforcement-only laws worsen the situation. You are in a position to be a leader and do something that can solve the problem!
We believe sensible immigration reform is imperative for Texas and for America. If we Republicans want to rid this country of Obama and his cronies, we cannot be perceived by Hispanics as the party that wants to deport their grandmother!
Congressman, would you be willing to meet with us to discuss this issue?
With much appreciation for your consideration of our request, we are
Sincerely yours,
Norman E. Adams
Co-founder
Texans for Sensible Immigration Policy 
Steven F. Hotze, M.D.  
President  
Conservative Republicans of Texas