Planning a Trip to Washington?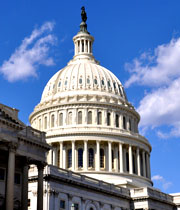 Now that spring has sprung and summer is just around the corner, many families are planning vacations to Washington, D.C. From April's Cherry Blossom festival through the 4th of July celebrations, spring and summer are great times to visit our nation's capital.
If you are planning a trip to the Washington, DC area, I can help facilitate tours of many Washington landmarks such as the recently reopened White House, United States Capitol, Supreme Court, and the Library of Congress. My staff is happy to answer any questions that you may have as you plan a memorable trip for your family, church, or school group. My website has additional information regarding travel to Washington, and I encourage you to visit the "Request a Tour" section as you plan your trip.
You can also sign up for email updates on my website to stay informed on my work in Washington and Houston as I work to represent you honorably and consistently as a free-market, Constitutional conservative. Thank you for entrusting me with the privilege of representing you in the United States Congress, and we look forward to seeing you on a future trip to Washington, D.C.