Over 47 Million Americans Now Participate in the Food Stamp Program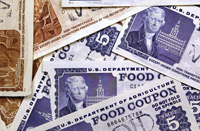 Earlier this month, the U.S. Department of Agriculture reported that over 47 million Americans take part in the Supplemental Nutrition Assistance Program (SNAP), formerly known as the food stamp program. A recent study found that the number of individuals on food stamps exceeds the populations of 24 states and the District of Columbia. As more people are added to the program every day, this system is becoming increasingly expensive to taxpayers, costing $72 billion in fiscal year 2011.
SNAP is a valuable program for people who have fallen on hard times and need help feeding their families while they get back on their feet. However, government benefits must be reserved specifically for our most vulnerable citizens. We must ensure that taxpayer dollars are only going to those truly in need of assistance. Congress is expected to pass a new Farm Bill before the end of the year, about 80 percent of which is now focused on food stamp policy. I am working to ensure this bill will reform this program to close loopholes and stop abuse and inefficiencies.