Phone Bank in Houston for New Jersey US Senate Candidate Steve Lonegan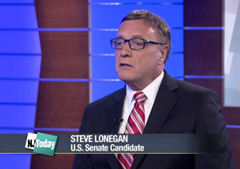 Are you frustrated with Senator John Cornyn and his vote for cloture? Frustrated with the political theater that is the shutdown? Not much of a 'shutdown' since nearly 83% of the government is still up and running and being funded, I might add! Wish you could do something RIGHT NOW to get better representation in the Senate?
There IS something you can do! The ONLY Senate race in the country this year is happening in New Jersey, where failed Newark mayor Cory Booker is running not only for the Senate, but to become the next Barack Obama.
His opponent Steve Lonegan:
Has been endorsed by RAND PAUL 
Supported TED CRUZ publicly during his filibuster 
Was the successful mayor of Bogota, NJ 
Is the former head of Americans for Prosperity in New Jersey 
Has narrowed the lead Booker has in a matter of a few weeks
Has been endorsed by Sarah Palin AND by Freedomworks PAC
But Hollywood and progressives are pouring money into Booker's campaign, at the same time that Booker is under a cloud of scandal and corruption. Steve Lonegan needs the support of all of us in order to overcome Booker's advantages and give Rand Paul, Mike Lee, and Ted Cruz more support on the floor of the Senate.
Turnout in this election will be very low since it is a special election, so the more conservatives we can help turn out in New Jersey, the better the chances that Lonegan can capture a seat in a decidedly blue state. Imagine the shock of progressives everywhere if we all pulled together and donated time and/or money to the Lonegan campaign and he won! Ted Cruz got plenty of support from outside Texas in his Senate race last year, and now we can return the favor.
We can help make that happen! Join us as we throw a phone bank party for Steve Lonegan, right here in Houston! Bring your cell phone and we'll spend a couple of hours making hundreds of calls to help turn out all the conservatives (YES, they exist!) in New Jersey. The Lonegan campaign has even indicated we might get a call from Steve Lonegan himself during the event to say thanks!
Let's show Cornyn and the other representatives who aren't paying attention that we are still active, and that we can make a difference! Let's help New Jersey send a REAL CONSERVATIVE to the Senate, and send Cory Booker home crying!
Check out Steve's campaign: http://www.loneganforsenate.com/
Facebook: https://www.facebook.com/LoneganforSenate
An Open Letter from a NJ Conservative: http://freeradicalnetwork.com/the-hunt-for-a-red-october/
Feel Like Primarying Your Senator?: http://www.youtube.com/watch?v=kaxxu38N1Jw
The phone bank is scheduled for Tuesday, October 8th to be held at King Street Patriots Headquarters. We will begin promptly at 6:00 PM and end at 8:00 PM.
Just remember, electing Cory Booker means more of the same, but electing Steve Lonegan means we are just one Senator closer to a conservative majority in the Senate! The time is now!