Judiciary Republicans to Holder: 'Urgent' Action Needed to Protect Military Voting Rights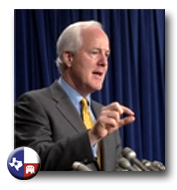 After it was discovered that counties and jurisdictions around the country have failed to mail military ballots by the mandatory September 18th deadline, I have been leading an effort to protect military voting rights. Today, I was joined by Senate Judiciary Committee Republicans in sending a letter to Attorney General Eric Holder to call on the Department of Justice to initiate immediate litigation to enforce the voting rights law. Otherwise many of America's men and women in uniform will not receive ballots in time. The full text of the letter is below:
Dear Attorney General Holder:
We write to request immediate action by the Department of Justice ("DoJ") to prevent the imminent disenfranchisement of members of America's armed forces. Specifically, we ask you to immediately bring lawsuits to enforce the Military and Overseas Voter Empowerment Act ("MOVE Act") in jurisdictions that are currently violating that important law.
The MOVE Act was intended to end the historical disenfranchisement of our military service members due to insufficient opportunity to cast a ballot. The MOVE Act requires states to mail unmarked absentee ballots to military and overseas voters at least 45 days before an election. The law allows states to seek waivers from the Department of Defense if they can demonstrate a hardship. It is our understanding that 10 states applied for waivers from the MOVE Act's 45-day deadline, 6 of which were granted. The DoJ has entered into settlement agreements with the 4 states whose waiver applications were denied. The remaining 40 states did not apply for a waiver, and were obligated by federal law to mail ballots by September 18, 2010—45 days before the 2010 election.
The Voting Section within the Civil Rights Division of the DoJ is responsible for enforcing the law, including litigating if necessary. Protecting military voting rights is one of the noblest and most important responsibilities of the DoJ. None of the men and women who fight to protect all of our rights should have their rights denied.
That is why we were alarmed to see a letter sent to you Monday by Eric Eversole, Executive Director of the Military Voter Protection Project (the "MVP Project"). In that letter, Mr. Eversole reports the results of a survey of jurisdictions in 14 states conducted by MVP Project volunteers. That survey revealed widespread failure by election officials in Connecticut and New Mexico to mail military ballots by the September 18 deadline mandated by the MOVE Act. The survey also revealed failures to timely mail ballots in 13 specific counties across the country.
At a DoJ briefing on Capitol Hill Monday, DoJ officials represented that there were 20 DoJ employees dedicated to monitoring MOVE Act compliance in jurisdictions across the country. Given the widespread MOVE Act violations uncovered in the limited sample of jurisdictions surveyed by the MVP Project's volunteers, we can only surmise that these 20 DoJ professionals have uncovered a significant number of jurisdictions that failed to mail ballots by September 18, as required by law.
Between the MVP Project's research and the work of the 20 lawyers within DoJ who are supposedly monitoring nationwide MOVE Act compliance, the DoJ must now be aware of several jurisdictions that are in ongoing violation of the MOVE Act. We respectfully ask that you immediately litigate to force every noncompliant jurisdiction into compliance with the MOVE Act. This litigation should entail seeking emergency injunctive relief to force the immediate mailing of ballots, and additional remedial relief requiring the post-election acceptance of returned ballots to guarantee military voters at least the 45-day voting window to which they are entitled by law. This remedial relief should also be sought against jurisdictions that have already mailed ballots, but did so after the MOVE Act deadline.
The need for action is urgent—the 45-day deadline for mailing ballots passed 11 days ago. With the elections just weeks away, each day that any necessary enforcement action is delayed increases the risk that our men and women in uniform will be disenfranchised. A jurisdiction that mailed ballots today would need to accept ballots delivered 11 days after election day in order to provide our troops with the 45-day voting window to which they are entitled under the MOVE Act. Any further delay will result in widespread disenfranchisement of our troops. We would find this result unacceptable, especially because it can still be prevented by decisive DoJ action.
Immediate litigation against all noncompliant jurisdictions is now the only option that can guarantee the voting rights of our men and women in uniform. Within days, the possibility of crafting a remedy for noncompliant jurisdictions that will meaningfully protect military voting rights in the 2010 elections will vanish forever. To protect military voting rights, DoJ must litigate now.
We also intend to ask for post-election oversight hearings into the implementation of the MOVE Act. For those hearings, we will expect the DoJ to produce thorough documentation of its efforts to enforce the MOVE Act, including all correspondence with states and other jurisdictions regarding their compliance plans and the efforts of the 20 attorneys within DoJ who are supposed to be working to ensure that every jurisdiction is complying with its MOVE Act obligations. You have declined my repeated requests for these documents, citing the possibility of litigation. We renew our request for these documents, but request that, at a minimum, these documents be preserved so that thorough Congressional oversight can be carried out after the election—and any chance of litigation—have passed. We hope that no military voters are disenfranchised in the meantime.
Sincerely,
John Cornyn, United States Senator
Chuck Grassley, United States Senator
Tom Coburn, United States Senator
Lindsey Graham, United States Senator
Jon Kyl, United States Senator
Jeff Sessions, United States Senator
Orrin Hatch, United States Senator