Obama Administration's Drilling Decision Keeps Majority of America's Offshore Energy Resources Off Limits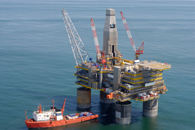 With the passage of the health care reform bill over with, Obama has introduced a controversial new drilling plan. The New York Times reports:
The Obama administration is proposing to open vast expanses of water along the Atlantic coastline, the eastern Gulf of Mexico and the north coast of Alaska to oil and natural gas drilling, much of it for the first time, officials said Tuesday. The proposal -- a compromise that will please oil companies and domestic drilling advocates but anger some residents of affected states and many environmental organizations -- would end a longstanding moratorium on oil exploration along the East Coast from the northern tip of Delaware to the central coast of Florida, covering 167 million acres of ocean. Under the plan, the coastline from New Jersey northward would remain closed to all oil and gas activity. So would the Pacific Coast, from Mexico to the Canadian border.
According to the Associated Press, "the president's decisions also could help secure support for a climate change bill languishing in Congress." Republican House Leader John Boehner criticized the Obama Administration today for refusing to listen to the American people:
The Obama Administration continues to defy the will of the American people who strongly supported the bipartisan decision of Congress in 2008 to lift the moratorium on offshore drilling not just off the East Coast and in the Gulf of Mexico, but off the Pacific Coast and Alaskan shores as well. Opening up areas off the Virginia coast to offshore production is a positive step, but keeping the Pacific Coast and Alaska, as well as the most promising resources off the Gulf of Mexico, under lock and key makes no sense at a time when gasoline prices are rising and Americans are asking "Where are the jobs?"
It's long past time for this Administration to stop delaying American energy production off all our shores and start listening to the American people who want an "all of the above" strategy to produce more American energy and create more jobs. Republicans are listening to the American people and have proposed a better solution – the American Energy Act – which will lower gas prices, increase American energy production, promote new clean and renewable sources of energy, and encourage greater efficiency and conservation.
At the same time the White House makes today's announcement, the Environmental Protection Agency (EPA) is plotting a new massive job-killer that the American people can't afford: a cascade of new EPA regulations that will punish every American who dares to flip on a light switch, drive a car, or buy an American product. Americans simply don't want this backdoor national energy tax that will drive up energy and manufacturing costs and destroy jobs in our states and local communities.