The Laredo Sector On The Texas-Mexico Border With Chief John Esquivel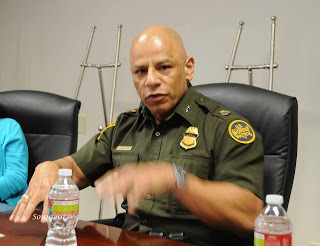 John Esquivel Chief Patrol Agent Laredo Sector Headquarters
On April 4, 2013 SREC SD21 Naomi Narvaiz led a delegation to Laredo, Texas to meet with John Esquivel, Chief Patrol Agent of the Laredo Sector Headquarters, US Customs and Border Protection. Others in the delegation were Jeff Narvaiz, Trudy and Russell Hayter from Hays County GOP, Lori Granados Campaign Manager for Senator Donna Campbell SD25 and myself from Comal County. We found Chief Esquivel to be welcoming and disposed to answer any questions we had.
I have not been to Laredo for at least 10 years or more because of all the problems that the border cities have experienced with the drug cartels. Things have certainly changed. The road entering Nuevo Laredo from Laredo has changed route. You can no longer stroll across the bridge from Laredo to Nuevo Laredo as before. A sign warns that you will have to pass through customs before reentry and a passport is best. There were three of us who were brave enough to go to the booth but decided that we had better wait until we had our passports, another day, perhaps.
After the friendly introductions Chief Esquivel went right into the question and answer session. I made it a point to forget that this man works for the federal government and may not be able to reveal certain classified information. But I do believe that what we did discuss was true and honest. Our hour long conference with the Chief was interesting and revealed information that probably the average Texan or American would not know. In case you might wonder how many sectors Texas has, there are five: Big Bend Sector, Del Rio Sector, El Paso Sector, Rio Grande Valley Sector and the Laredo Sector.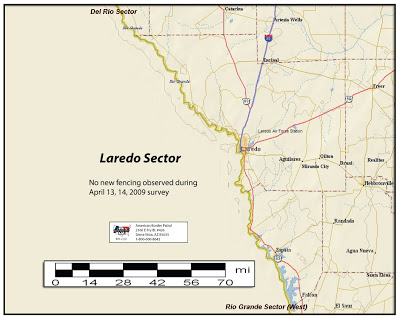 The Texas-Mexico border runs almost 2,000 miles, 171 miles of which are in the Laredo Sector. The Laredo Sector runs from the Dimmitt-Webb County line to the Zapata-Starr county line. Approximately 1,900 border patrol agents are on duty 24/7 with no gaps in between shifts and do not receive hazardous pay, but are on 'uncontrolled overtime'. After 5 to 6 years of service, their salary is about $80,000.
The Texas-Mexico border in South Texas is 100% owned by property owners and not the federal government as the case may be in Arizona and New Mexico. The land owners welcome the agents' access to their land and may even give them the keys to their property.
The one big difference between the Laredo Sector and the El Paso Sector is that that section borders on federal land owned by the Bureau of Land Management making access more difficult. As you can see, according to the map below, that area is part of the Department of Defense. As Chief Esquivel stated, "They have an interest in environmental issues and they have all the regulations that they have to be concerned with before they allow us to drag roads or improve a road. We do have access but to build something on federal government land is harder than dealing with a property owner who may improve that road for you." Chief Esquivel also commented that the Laredo Sector has the river, while the El Paso Sector has barbed wire fencing.
Carrizo Cane grows along the banks of the Rio Grande prohibiting access along the river banks and provides a natural barrier. The border patrol agent cannot see who is in the river or who is on the other side in these areas, hindering the effectiveness of the border agent.
http://nationalatlas.gov/printable/images/pdf/fedlands/TX.pdf
The following are some of the Q&A from our delegation to Chief Esquivel.
On Sequestration: Every agency in the government took some sort of hit, as did we. We still don't know what the impact is going to be for the border patrol agent who is out in the field, including me. However I believe with a lot of certainly that the impact will probably be minimal as to what we thought it was going to be. We will continue to operate without any real impact. It is better than just 30 days ago when we were looking at furloughs and a 25% pay cut.
On Immigration: I do not have an opinion because what ever laws are in the books, those are the laws we are going to follow. And debating on immigration reform is not at my level. It is at the political level. And we are going to continue to enforce whatever laws are in the books.
Have you seen an increase in illegal entry? The numbers are misleading when you look at them on paper. Our fiscal year is from October 1st to September 30th. We are seeing about a 25% increase in illegal entry and apprehensions compared to last year's fiscal year. However, the numbers are nowhere near what they were in 2004, 2005, 2006. If you look at it historically when we had fewer agents, we had a lot more apprehensions. The entries are still manageable. The apprehensions are still manageable even though they have a spike.
Do you believe that basically the Border is Secure? Why do you think the illegals are coming in? I think it is seasonal, but you almost have to understand the dynamics in Mexico. The Zeta Cartels had a very, very strong hold of the Nuevo Laredo Plaza, as they call it, a year or two years ago. And now with the infighting and with a lot of their leadership being knocked out, you have a lot of lower level managers running the cartel. A year ago or two years ago if you were to transit through Nuevo Laredo to get to the United States you had to go through the big bosses and you had to pay the big bosses if you were going to operate in their lanes. But with the dismantling of a lot of the organizations, now the lower level folks are losing control of that plaza. So people who may not have normally crossed through here may say its OK to cross through Nuevo Laredo to Laredo because the guys that were in charge are no longer in charge. It is not as difficult. That's one of the reasons.
What about Other Than Mexicans have you seen an increase? Is there a relation between the OTMs and Cartels? We are seeing a spike in OTMs but not anything that is alarming to us. No it is a manageable population to us. Most OTMs are from El Salvador, Guatemala and Honduras. Mexico has no border patrol and no one guarding their Southern borders and OTMs into Mexico.
Is there Hamas in Mexico? No, as a matter of fact the last time I heard that was probably in 2005, 2006, when a Sheriff here made that statement. He was asked to give us the information and he could not give us that information.
Who are you having more problems with, those that want to come here to work or those with the drug cartels? I look at them the same. An illegal act is an illegal act.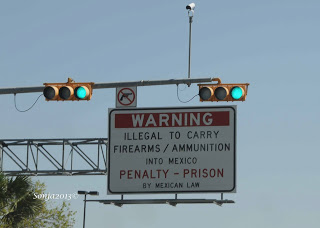 What other method do you have other than the 1,900 agents to patrol the border? The Customs and Border Protection have drones, which they might fly the area and I probably won't even know about it. The other thing is that through DHS grants, 250,000 low tech game cameras were given to Texas. These game cameras can be moved anywhere we want. What's interesting, I don't know if you know how they work, but that camera takes a picture and sends it to Austin. The state, within a matter of seconds, sends it back to us and we see aliens traversing the area or people with bundles of marijuana, and it is instantaneous. Before, we relied on a ground sensor and we had to actually go to the site and find out that it was a cow. So it's just great! We have them here, Rio Grande Valley Sector and Del Rio Sector. It's been very productive for us.
Over looking the Rio Grande at the old bridge and the second international bridge
Nuevo Laredo police department: A year or two ago the Mexican Military basically fortified the border on their side obviously when the drug cartels were dismantled, Nuevo Laredo dismantled their entire police force and got rid of it. Now the military instead of fortifying their border are now doing police calls, robberies, etc. So their footprint on the border is not as large as it used to be a year or two years ago. These are the kind of dynamics that are making it a little easier to go to illegal activity in Mexico and transfers to Laredo over here.
The cooperation we get from the Mexican government and Mexican Military is great. Mexican Consulate Miguel Angel Isidro Rodriguez is a great partner, extremely great. I can call him at 11pm at night and tell him what we have. There are no us versus them. We are all in this together.
The aliens get accepted back to Mexico by Mexican Immigration. They try to get their people back to where they came from. If they are stuck downtown they become new recruits for the smugglers. We repatriate at a specific time so that the Mexican government can pick them up and return them without the cartels recruiting them again.
Do you have counterparts in Mexico? I don't have counterparts in Mexico. The person I deal with in Mexico is a general. When ever they receive a drug transaction or stolen vehicle they always communicate with the United States authorities to check if the vehicle is a stolen vehicle. Stolen vehicles come from San Antonio, Austin, Dallas, and Houston. What these smuggling organizations are doing is using these vehicles to transport their cargo. They take the cars south load them with people and go back into the United States and head back north.
We are working with partners so we can install license plate readers on IH35. So that we know which vehicle is stolen and even before they make it to the border to pick up their cargo we can stop it before it gets here.
Matthew Ochoa Operations Officer, Sonja Harris investigative writer/blogger, Trudy Hayter Hays County, Naomi Narvaiz SREC D21 Hays County, Chief John Esquivel, Jeff Narvaiz Hays County, Lori Granados Campaign Mgr Senator D. Campbell SD25, and Russell Hayter Hays County GOP
Chief Esquivel spoke of Francisco Martinez Magna a notorious Mexican national that has been indicted by the United States for alien smuggling. He not only transports aliens but weapons, marijuana and cash. He is a wanted man who has managed to elude both the Mexican and United States government. Magna's crew steals an approximate 400 vehicles to use in his 'enterprise' from the United States and takes them back to Mexico for the sole purpose of smuggling his cargo back into the United States. He also told us how the South Texas Campaign is working to systematically eliminate Magna's crew in the United States. This method of charting each individual's criminal activity under Magna has proven to be very successful.
Groundbreaking was initiated this month for a South Texas Border Intelligence Center. This center will house several agencies under one roof for information sharing. The agencies are: Customs and Border Protection, U.S. Immigration and Customs Enforcement-Homeland Security Investigation, FBI, DEA, Texas Department of Public Safety, Webb County Sheriff's Office and the Laredo Police Department.
We thanked Chief Esquivel for his time and hospitality. I believe we gathered enough information to understand the dangers they face and the different kinds of relationships the border patrol has to have in order to eliminate the transportation of illegals into the United States. One thing I totally understand. When he told us that the Mexican government does not have an equivalent border patrol, my head filled with visions of Americans going into Mexico. They are called tourists! RED SONJA2013©
PRAY, FIGHT, NEVER GIVE UP!