StopPROP1 Releases New Video Showing Mayor Parker's new Monopoly!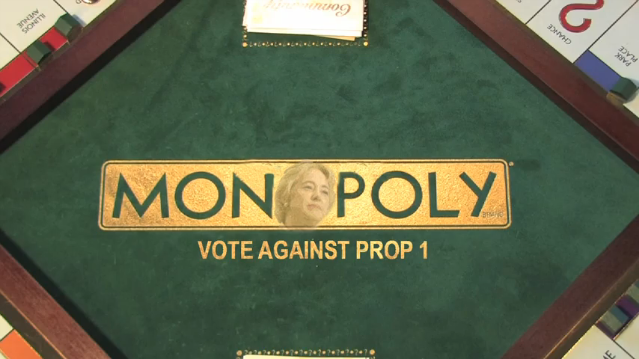 The City of Houston is trying to pull a fast one on the taxpayers! The new proposal of a "drainage fee", on the ballot as Proposition 1, is simply a new way of increasing the size of local government and expanding taxes to places where it has never gone before.
The only guarantee in the actual proposed charter amendment is that AT LEAST $125 million will be collected in fees. However, Mayor Parker and Councilman Costello are both using a figure of at least $400 million. The reality is, the skys the limit because this charter amendment contains no limitations or definitions at all.
They promise this money will go into a lock box, but Texas law does not allow for that. The money can be diverted to the general fund to pay off the citys coming budget shortfalls. Paul Bettencourt says, "This is the most poorly defined public project I have seen in all my years as an elected official and political activist!" He calls the dedicated fund "a lock box without a top".
Following on the heels of StopPROP1's video of the secret meeting in Mayor Parker's office on how the "fee" came to be is a new video showing the Mayor's Monopoly!
StopPROP1 exposes, "Monopoly used to be a fun game when we were kids. But now look what Mayor Parker and Renew Houston are doing to what is no longer a 'child's game' in this new video from StopPROP1. As you move around the board you learn how there are no caps on the fees. On your next turn, you learn there are no caps on the spending. Then, just as you think you are about to pass GO, you learn there really is no 'LOCK BOX'!"
We must fight this attempt by the City of Houston to create yet another moneygrab. Please watch this video and then pass it around! If you live in Houston, VOTE AGAINST PROPOSITION 1…