Texas Senator Dan Patrick Announces Exploratory Committee for US Senate Race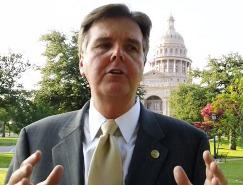 In a move that caught many by surprise Friday, Texas Senator Dan Patrick (R-SD7 Houston), announced he is forming an exploratory committee to decide if he will run for the United States Senate seat being vacated by retiring Senator Kay Bailey Hutchison. Sen. Patrick is completing his third legislative session and is in his second term as a State Senator. He is also my Texas Senator.
I caught up with the Senator in front of the Texas Capitol Friday and asked him about his announcement. Here is my interview with the Senator.
TexasGOPVote will follow the progress of this campaign as it develops.