Glenn Hegar's New Ad Hits Home – Cut Waste and Inefficiency – Texas Comptroller Race Update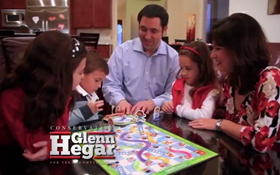 The Glenn Hegar for Texas Comptroller campaign has come out with a new tv ad. The new ad is titled "Our Future." One of my favorite lines of this new ad is that Hegar chaired a committee to eliminate waste and inefficiency in government, saving taxpayers millions. I did not even know this about Hegar, but I am glad I now do.
Cutting waste and inefficiency in government is so important right now. There is so much waste on all levels of government. Taxes keep having to be raised in order for the government entities to be able to keep up with their pork spending.
The title of Hegar's new ad is fitting, "Our Future." It is fitting because we will not have a future if we do not rein in government spending. Our kids will most certainly not have a future if we do not stop waste spending and inefficiency in government. We have to stop thinking about only the here and now. We must start thinking about our future. I know that I cannot afford any more taxes. I fear that by the time my son has a family of his own, the taxes will be too high to even be able to pay.
Think about it, we are taxed from the local level all the way up to the federal level. There is waste in school spending. They build million dollar stadiums instead of paying teachers. There is waste in county spending. I live in Hardin County and taxes were just raised in order to pay for new Chevy Tahoes and pay raises. The Federal government forces us to buy healthcare or face a penalty. Even if we do get healthcare, the prices have skyrocketed so we are all paying more now.
We have to start cutting pork spending on all levels of government. I am confident that Glenn Hegar will be able to do just that if he is elected as the next Texas Comptroller of Public Accounts. His experience as the chair of a committee to cut waste and inefficiency in government gives Hegar the unique experience of knowing where and how to find wasteful spending and cut it. 
Conservatives Flood Glenn Hegar with Endorsements
The conservative community is waking up and realizing that Glenn Hegar is the best candidate in the race for Texas Comptroller. From social conservatives to fiscal conservatives. It has been mentioned already in previous articles, but the impressive list of Hegar's endorsements is worth mentioning again. Senator Donna Campbell is one of the latest people to join a growing list of conservative leaders and organizations to support Glenn Hegar for Texas Comptroller. You might remember Senator Campbell as one of the women who went toe to toe with Wendy Davis in the Senate Pro Life Bill hearings. Senator Campbell is now standing with Glenn Hegar for Texas Comptroller.
Campbell is the most recent of the list that includes: David Barton of WallBuilders, Comptroller Susan Combs, Michael Quinn Sullivan of Texans for Fiscal Responsibility, Young Conservatives of Texas, Tim Lambert of the Texas Home School Coalition, Elizabeth Graham of Texas Right to Life, Cathie Adams of the Texas Eagle Forum, Carol Everett of the Heidi Group, Kyleen Wright of Texans for Life Coalition, Ann Hettinger, Texas Home School Coalition, Jonathan Saenz of Texas Values, Representative Giovanni Capriglione, Representative Craig Goldman, Representative Stephanie Klick, Representative Matt Krause, Representative Bill Zedler, Representative Van Taylor, Representative Jeff Leach, Representative Jodie Laubenburg, Representative Scott Sanford, Texas Alliance for Life, Dr. Robin Armstrong, National Rifle Association, Half of the State Republican Executive Committee, Rick Green - See more here.