Major General Al Zapanta Endorses Adryana Boyne In Texas House District 102 Republican Primary Race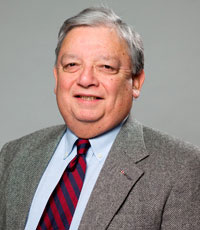 Richardson, Texas—Today, Major General Albert C. "Al" Zapanta (US Army, Retired) announced his endorsement of conservative leader Adryana Boyne in the Republican race for the District 102 seat in the Texas House of Representatives.
General Zapanta is currently the President and Chief Executive Officer of the United States-Mexico Chamber of Commerce where he is responsible for operations in 14 regional offices in the United States and six in Mexico. Zapanta has held numerous presidential appointments, including a White House fellowship in 1973-74 and a Senate-confirmed assistant secretary of the interior for management and administration position from 1976-77. He participated as chairman of infrastructure studies on urban mass transit, rail transportation, the airport airways study, the water conservation initiative, the Trans-Alaska pipeline fraud review, and the Teton Dam disaster audit, and was the department's representative to the National Visitor Center, Intermodal Station in Washington, D.C. Zapanta's military record includes the Silver Star, five Bronze Stars for valor, the Purple Heart and 30 other awards during the Vietnam War. He was also awarded the Joint Service Commendation Medal for Desert Shield/Desert Storm.
"I am proud to endorse Adryana Boyne to be the next State Representative in House District 102. As someone who has led young Americans into battle in defense of our constitution and our American way of life, I am honored to become a part of Adryana's campaign. She too has defended the constitution and our American values, but on the political and public policy battle field," said Zapanta.
"Adyana has a proven record of speaking out and standing up for the values, traditions and liberties which have made our nation strong and a beacon of hope for the world. Texas remains a bastion of freedom, and it is critical that we have strong, decisive and principled leaders like Adryana Boyne in the Texas legislature standing as a bulwark between us and those in Washington, D.C. who wish to weaken our freedoms," General Zapanta added.
"This solider is ready to stand shoulder to shoulder with Adryana as she leads her own battle to protect Texas taxpayers, to stand with Texas families, and to promote liberty in Austin and across Texas," he said.
"Adryana understands that Texas sends more men and women into our nations armed forces than any other state. She also understands that Texas has a large population of veterans and military retirees. I know she is committed to helping honor their sacrifice by ensuring that programs such as the Texas state cemetery System, the Texas Veterans Land Board, the specialty license plate programs for Purple Heart and other military award recipients, and other like programs remain intact and strong," said General Zapanta.
"Adryana may have come to our country from another nation but she cares more deeply for our constitution, the rule of law, and the defense of liberty than most Americans who were born here. I am so happy that she is volunteering to serve her country and her state in this important capacity," General Zapanta concluded.
Boyne said she was both honored and humbled to have earned the endorsement of General Zapanta.
"I am excited to have a true American patriot like General Zapanta as part of my campaign. Not only is he an authentic American hero, but he is a proud and active Republican leader. He understands the importance of this election, not only for district 102 but for Texas and our Republican Party. I look forward to working with him as we march towards victory in March and then again in the November general elections," Boyne said.
General Zapanta joins a growing list of conservative leaders like Kelly Shackelford, Jonathan Saenz, and Morton Blackwell who are supporting her campaign for the Texas House of Representatives. Adryana immigrated to the United States from Mexico as a young adult and graduated from Criswell College with a degree in Biblical Studies. She continued her education at Blinn College, studying government and history, and at Spaeth Communications and The Leadership Institute, where she learned how to implement effective public policy. Over 20 years ago, she proudly became an American citizen.
Adryana has been married to Dr. Daryl Boyne for 26 years, and they are proud parents of two sons. She and her husband have served as Christian missionaries in Mexico and Costa Rica as well as here in the United States, and they attend Watermark Church in Dallas. Texas House District 102 is located in Dallas County and includes parts of the cities of Addison, Dallas, Richardson, and Garland.