Kevin Brady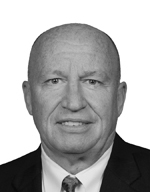 Kevin Brady is a pro-family, pro-small business conservative representing the 8th District of Texas in the U.S. House of Representatives.
Kevin is Chairman of the House Ways and Means Committee - - considered by many to be the most powerful committee in Congress with jurisdiction over taxes, health care, Social Security, Medicare, international trade and welfare.
In 2017, Kevin led Republicans in Congress in passing the Tax Cuts & Jobs act. Thanks to Kevin's crucial contributions and the passage of this historic tax reform, Americans are paying less taxes, companies are bringing back earnings from overseas and reinvesting them in America, workers are getting raises and bonuses, the job market and economy are booming, business confidence is soaring to new highs, and Americans' retirement portfolios are experiencing increased returns.
A champion of free enterprise and American-made energy, Kevin's focus is creating jobs, reducing Washington spending and sunsetting obsolete federal agencies.
Kevin previously served as chairman of the influential Health Subcommittee for the House Ways and Means Committee. As chairman, he has focused on ensuring a strong, free market in the nation's health care industry and look for ways to increase the quality of health care, while keeping costs low.
And as the former Chairman and Vice Chairman of the Joint Economic Committee, Kevin has been a GOP leader on economic issues – opposing Obama's stimulus and fighting his administration's efforts to raise taxes on families, small businesses and American energy producers.
Until 2013, Kevin was the leader of the Trade Subcommittee and led the successful effort to pass new sales agreements with Panama, South Korea and Colombia – and he served as the White House point man on the successful passage of the Central American Free Trade Agreement. On the Social Security Subcommittee, Kevin fought to preserve this important program for future generations once and for all.
Prior to his election to Congress, Kevin worked as a chamber of commerce executive for 18 years and served six years in the Texas House of Representatives where he was named one of the Ten Best Legislators for Families & Children. In 1994 he was named one of Five Outstanding Young Texans.
In order to stay close to the people he represents, Kevin never moved to Washington. He lives in Montgomery County with his wife Cathy and his two sons Will (18) and Sean (15) – and has logged nearly two million miles commuting to Congress each week.
Kevin is an original Hometown Hero of The Woodlands, a Paul Harris Fellow in Rotary and a Distinguished Alumni of the University of South Dakota. He and his family attend Saints Simons and Jude Catholic Church.